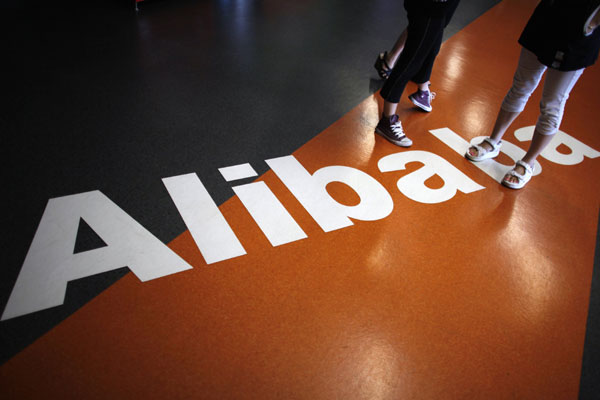 Employees stand on a logo of Alibaba Group Holding Ltd during a media tour organised by government officials at its headquarters on the outskirts of Hangzhou, Zhejiang province, June 20, 2012. [Photo/Agencies] 
Alibaba Group Holding Ltd will allow customers to invest in movies and games through an insurance management fund, in its latest move to combine its newly tapped entertainment industry with financial endeavors.
Taobao's mobile users may pour money into the YuLeBao, or 'Entertainment Treasure", that will be part of the production of selected films, TV dramas and online games as well as other forms of entertainment, Liu Chunning, Alibaba's vice-president who oversees digital entertainment businesses, said at a press conference on Wednesday.
By teaming up with GuohuaLife Insurance Co Ltd, YuLeBao promises individual investors an annualized return of 7 percent. The premium will be paid for six months or one year of coverage, depending on the project.
With the anticipated capital pool reaching 73 million yuan ($11.75 million), the first phase of the program will include four movies and one game. Each registered user can invest up to 200 yuan.
Liu said the move will help Alibaba pinpoint customer preferences by studying data collected from the product. The firm may further monetize the product by bringing the latest fashion lineups from movie settings into its e-commerce marketplaces, Taobao and Tmall.
The Internet giant has been investing heavily in the entertainment industry by aligning smaller domestic partners to compete with rivals.
In January, Alibaba set up a mobile gaming platform in China, venturing into a fast-growing sector dominated by Tencent Holdings Ltd. Alibaba also bought a majority stake in television-and-film production firm ChinaVision Media Group Ltd, to utilize its rich entertainment content.
Alibaba mapping a future filled with smart devices
Alibaba offers to buy digital mapping company AutoNavi
Alibaba, Yunfeng Fund buy 54.3% stake in CITIC 21CN