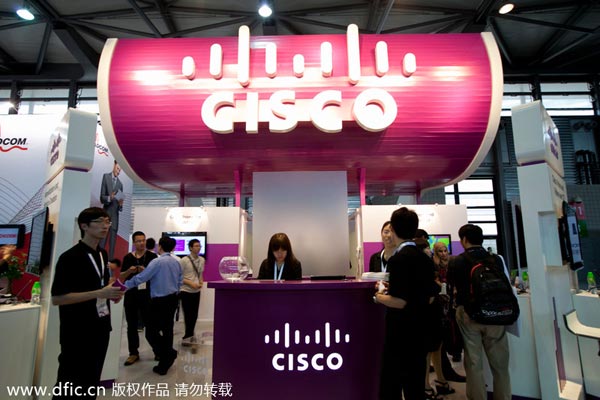 People visit the stand of cisco during the Mobile Asia Expo 2012 in Shanghai. [File photo/dfic.cn]
Cisco announced the establishment of its China headquarters in Hangzhou, Zhejiang province, on Tuesday as a part of the company's plan to participate in developing the country's smart-connected industry.
Chuck Robbins, senior vice-president of the company, said it's an important milestone for Cisco since China is a key market in its global strategy.
"We have been nurturing this moment for years. It will help accelerate our steps in smart-connected projects in this region, and we are proud that we are involved," he said.
Robbins said the company views Hangzhou as a future world-class center of smart-connected industry.
"We have strong faith in local R&D capability here in Hangzhou. As our vision is to become the No 1 IT company in the world, I believe our presence in the city and our cooperation with local companies and governments will lead to greater success," he said.
The company will expand to areas including healthcare, education, information and transportation in Hangzhou as part of the city's plan to establish a smart-connected platform for the general public.
Cisco entered the Chinese market in 1994, with 20 business branches and more than 4,000 employees. It is the first Fortune 500 company to establish its headquarters in Hangzhou.
Zhang Hongming, mayor of Hangzhou, said the coming of Cisco China will help the city develop into a global center of the information industry.
"The information industry has long been a priority in Hangzhou, and with Cisco establishing its China headquarters here, the city is further accelerated toward becoming a smart city model for the country, even for the world," he said.
According to Zhang, the city is determined to construct a national leading smart-connected information infrastructure platform by 2015.