Cisco sends Sichuan $50m
Updated: 2011-09-19 08:01
By Shen Jingting (China Daily)
| | | | | | | | | |
| --- | --- | --- | --- | --- | --- | --- | --- | --- |
|   | | Print | | Mail | | Large Medium  Small | 分享按钮 | 0 |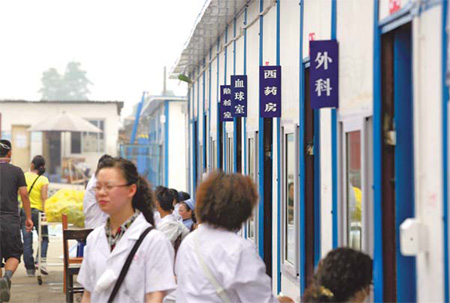 Doctors busying themselves at a temporary hospital in Wenchuan, in Southwest China's Sichuan province. American company Cisco Systems Inc is financing a three-year program to help the post-earthquake region to set up an advanced healthcare networked infrastructure. Ren Fengtao / for China Daily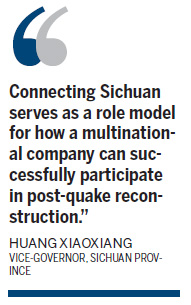 WENCHUAN, Sichuan - Cisco Systems Inc has invested more than $50 million in a three-year program to help Sichuan's post-earthquake regions to set up an advanced networked infrastructure that has greatly improved the standard of local people's healthcare and education services.
A massive earthquake devastated Sichuan province in May 2008. In addition to significant loss of life, the earthquake destroyed many schools and hospitals located in rural, hard-to-reach areas.
Cisco, the Cisco Foundation, and its employees immediately responded by donating more than $2.6 million in grants and relief funds.
But a longer-term response was needed to restore and revitalize the region. The vision for rebuilding a better life for Sichuan people resulted in the creation of a unique public-private partnership, a three-year Cisco program called Connecting Sichuan.
Connecting Sichuan was designed to systematically transform healthcare, education and the workforce in the province through the use of information and communications technology (ICT).
Never before had China collaborated with a United States-based private sector company to undertake such an ambitious and wide-ranging project.
Eight out of 10 of the hardest-hit counties in Sichuan benefited from the program. Cisco helped 66 healthcare organizations and 102 education organizations to build up the network-enabled infrastructure.
"By using technology to connect communities, rural and remote areas in Sichuan gained equal access to higher-quality services in healthcare and education typical in urban areas," said Wang Songbai, president of Wenchuan People's Hospital.
Wang, from the Qiang ethnic group, talks breathlessly about the benefits brought by Cisco's equipment.
For example, the network enables providers throughout the healthcare system to interact and share resources. A remote local clinic can tap into patient records at a centralized data center, a doctor can share X-rays with a colleague thousands of miles away, and a village nurse can connect to specialists and diagnostic resources located at a regional hospital.
"Previously, if we encountered problems during an operation, we would have to wait for at least seven hours before doctors from higher-level hospitals could arrive at the scene and give us guidance. Now we only need to connect our equipment and those doctors can immediately supervise the operation," Wang added.
Not all injuries inflicted by the Sichuan earthquake were physical. Many people suffered from post-traumatic stress disorder long after the ground stopped shaking.
Among the victims was Jia, a Sichuan woman who lost her child to the earthquake and was having difficulty with a new pregnancy. Using Cisco TelePresence, a high-definition video conferencing technology, Jia received psychological counseling in a mobile clinic, administered by a therapist in Hong Kong. She later gave birth to healthy twin girls.
Connecting Sichuan also included education programs. It led to a sustainable model for advancing education based on ICT-enabled multimedia classrooms, connecting urban expertise with rural communities in Sichuan and beyond.
More than 1,140 multimedia classrooms were installed and 4,500 teachers were trained to take advantage of the new environment, capable of transforming the classroom into an intensive interactive learning experience.
Provincial and county-level education "clouds" were established to connect schools with each other and with centralized resources and services. Six curriculum resource centers serve 16 counties in Sichuan, storing online instructional content customized to suit local needs.
"This remarkable partnership extended to all levels of government and represented a joint effort between Cisco and Sichuan to create healthier, more prosperous communities through the implementation of ICT technologies," said John Chambers, chairman and chief executive officer of Cisco.
"Connecting Sichuan serves as a role model for how a multinational company can successfully participate in post-quake reconstruction," said Huang Xiaoxiang, vice-governor of Sichuan, at a news briefing.
China Daily
(China Daily 09/19/2011 page22)