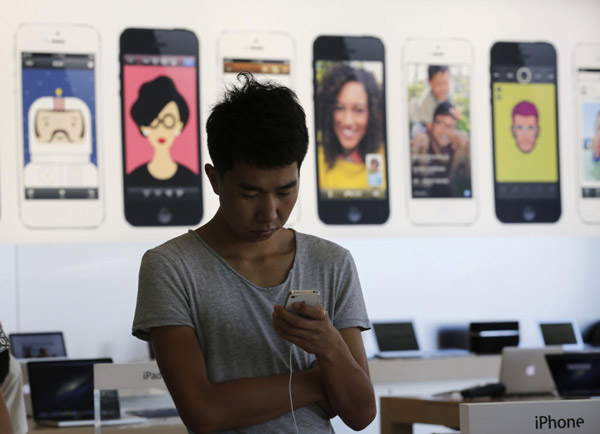 A man tries Apple's iPhone at its showroom in Beijing September 5, 2013.[Photo / Agencies]
Chinese telecom carriers China Unicom Hong Kong Ltd and China Telecom Corp Ltd will carry Apple Inc's newest iPhone models within days of their launch in Beijing next week as the US technology giant tries to regain lost ground in its second-biggest market by releasing the phones faster.
Apple said earlier this week it was holding a satellite event in Beijing on September 11, the day after it is expected to unveil its latest iPhones in the United States. The September 11 event is the first time Apple will launch in China at almost the same time as in the United States, underscoring the importance of the Chinese smartphone market, the biggest in the world.
"There used to be a wait of a few months before Apple launches their latest products in China, but nowadays, China is too important a market for Apple and so it will be the first batch of markets to start selling the low and high-end iPhones next week," said a source at one of the telecom carriers, who declined to be identified as he was not authorised to speak to the media.
The high-end version is being called the iPhone 5S and the low-end version is the 5C.
China Unicom and China Telecom, the mainland's second and third-biggest mobile carriers respectively with a combined 266 million subscribers, are Apple's carrier partners in China, the world's biggest mobile phone market with more than 1 billion users.
China Mobile Ltd is the only carrier without an iPhone contract, although it has been rumoured in the market Apple and China Mobile may soon come to an agreement.
Apple's high-end 5S model may support a 4G technology called TD-LTE, which could pave the way for an agreement with China Mobile, which has more than double the subscribers of China Unicom and Telecom combined.
Officials with all three carriers declined to comment.