Will China embrace a gold iPhone?
Updated: 2013-08-23 11:28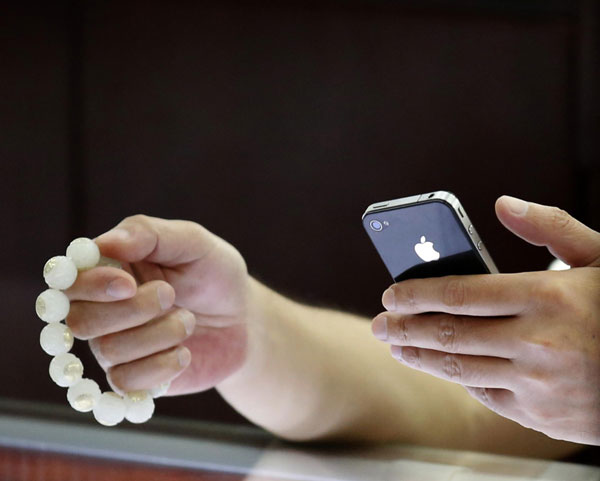 A man uses Apple's iPhone as he holds prayer beads at an antique shop in Beijing, in this July 31, 2013 file photo. [Photo/Agencies]
BEIJING - If Apple hopes to woo more Chinese by adding a glitzy coating - some call it champagne, some gold - to its next iPhone, it may be in for a surprise.
While gold is hugely popular as a safe haven and a status symbol - China is set to overtake India as the world's biggest gold consumer this year - shoppers at an Apple store in Beijing weren't all convinced it should be coupled with that pinnacle of mobile gadgetry.
Ni Suyang, a 49-year old worker at a Beijing state-owned enterprise, said that color mattered less to her than the glass surface and silver metallic finish.
"A gold color looks high-end but is a little tacky," she said.
Gold and mobile phones are not strangers. Britain's Gold & Co makes gold-plated iPhones, iPads and BlackBerrys which it also sells in India and China.
In Shenzhen many small local brands make gold-plated feature phones and smartphones. The less well-heeled can adorn their devices with jewel-studded and gold phone covers.
Apple's decision to add a champagne or gold covered iPhone to its range - confirmed by supply chain sources in Taiwan - would be a departure from its black and white norm.
Apple could be not reached for comment.
Commercially it makes sense, said Jerry Zou, Senior VP and Partner at FleishmanHillard, a public relations firm in Beijing. New colors would add "novelty and variety, both of which are key to winning over Chinese consumers".
A champagne color "would convey an image suggesting high-end luxury but a bit more restrained and subtle".