Plastic bags are handy, but threaten our environment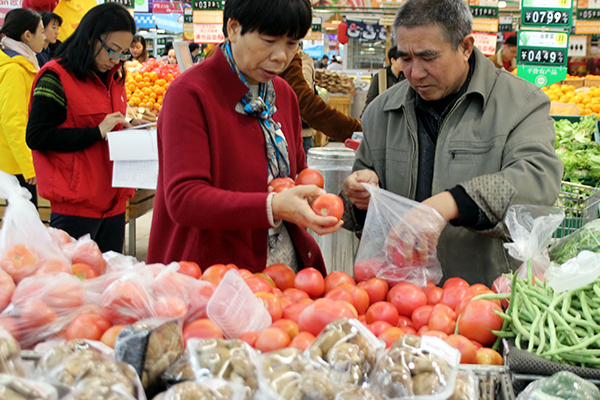 Customers put tomatoes into a plastic bag at a supermarket in Suzhou, Jiangsu province. [Photo/China Daily]
Once a month or so, my wife and I call a collector to take away the recyclable trash piling up on our kitchen balcony-newspapers, packaging cardboard, bottles and so forth. Often, he pays us one or two bucks.
But there are always items he doesn't want-plastic bags.
We have been trying to use as few plastic bags as possible, but still they pile up. I don't know how others dispose of them. We keep the clean, intact ones to use on future shopping trips. The dirty ones go to their final use, as trash bags. However, most bags are stained or small ones that we have to take out with other trash.
Plastic bags, since their invention about a century ago, have brought tremendous convenience and become an inseparable part of the fabric of our daily lives. It's not easy to name any aspect of our daily lives where plastic bags are absent.
But, this convenience comes with a price-environmental pollution or "white pollution", as it is better known here in China. Studies have shown that it will take some two centuries for plastic bags to degrade. The Guardian and Time listed plastic bag as one of the worst inventions, because of the grave environmental hazards.
Nonetheless, this should not negate the role of plastic bags.
The question is how we can "invent" effective and revolutionary ways and technologies to mitigate or eliminate the unwanted side effects, thus making plastic recycling both green and profitable.
The government banned the production, sales and use of ultrathin plastic bags in 2008 and a system in which customers must pay for plastic bags was also introduced in the year across the country. Still, Chinese consumers use as many as 3 billion plastic bags everyday, according to the China Plastics Processing Industry Association.
Most of these bags eventually end up in landfills, but others are randomly discarded, causing serious environmental problems. A few are incinerated for power generation or processed for reuse, causing air pollution.
To curb white pollution, it will probably work better if measures are taken on both ends of the chain-reducing the use of such bags and seeking new and advanced technologies for green disposal.
On the one hand, higher costs may force some consumers to give up excessive use of plastic bags and to bring their own shopping bags. If a habit of bringing their own bags is established among consumers, the amount of plastic usage would fall accordingly.
On the other hand, stores will have to prepare durable and environmentally friendly alternatives for customers.
In the war against white pollution, the government should encourage research and development of environmentally friendly methods and technology for plastic disposal and offer incentives for companies and organizations engaged in the sector. This will help drive forward the country's initiative to develop a circular economy, in which plastic recycling and harmless disposal have a role to play. Plus, the government needs to offer both financial and policy support to green disposal.
Another option is that all plastic bags could be made degradable to mitigate the environmental hazards. While writing this article, I did a search on a popular and widely used e-commerce platform in China. The result was pretty discouraging. A search for "plastic bag" led to more than a hundred pages of results. But when I narrowed it down to "degradable plastic bags", there were only two pages.
Only when degradable plastic bags are widely used and when plastic disposal becomes profitable, will we then be able to expect an environment with less white pollution. And, the collectors of recyclables will then be willing to pay the bags, which will be a valuable resource.