Foreign automakers set to get green light on 100% ownership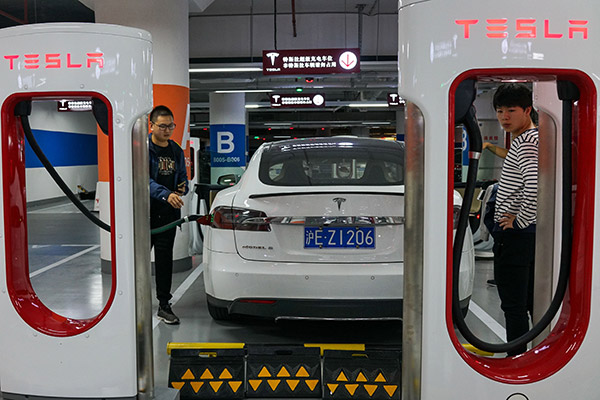 People charge their Tesla vehicles at a charging station inside a mall in Shanghai. [Photo/for China Daily]
China may soon allow foreign automakers to establish wholly owned operations in China, possibly first in free trade zones, according to heads of the country's leading car associations.
"Probably as early as next year, China will allow them to build wholly owned facilities dedicated to new energy cars in its free trade zones," said Dong Yang, executive vice-president of the China Association of Automobile Manufacturers.
Dong was speaking at a low-carbon car-themed forum on Wednesday in Beijing.
One day earlier, Fu Yuwu, head of the Society of Automotive Engineers of China, told news portal Sina that the Chinese authorities will remove the ownership stake cap on carmaking joint ventures, when asked to comment on media reports that Tesla will build a wholly owned plant in China.
Analysts said if the initiative takes place, it would be a major change to China's industrial policies. These currently demand that foreign carmakers wanting to produce cars in the country must have local partners - be their operations inside or outside free trade zones - and their stakes cannot exceed 50 percent of the joint ventures.
But one thing that is certain is that China is loosening its controls over the new energy car sector. China has limits on the number of joint ventures a foreign carmaker can have, but in June the authorities added a footnote to the rule saying that partnerships dedicated to new energy cars are an exception.
Since then both the Ministry of Commerce and the National Development and Reform Commission have vowed that China would further open up the new energy vehicle sector.
"Foreign investors are welcome to invest in China, especially those in high-tech, energy-saving and strategic sectors," said Gao Feng, a spokesman at the Ministry of Commerce at a regular briefing on Thursday.
At the same briefing Gao also confirmed that Tesla is in talks with the Shanghai city government over building a plant in the city, although he did not offer details on whether it will be wholly owned or not.
Tesla said in an early statement that its localization efforts will become much clearer by the end of the year. Analysts are divided on whether the United States electric carmaker would trigger the policy change in China. "Other foreign companies will try to follow the same path or use this opportunity to push removing the JV requirements, and I will not be surprised to see the policy change in the near future," said expert Qiang Hong. The senior research scientist at the Center for Automotive Research in the US state of Michigan gave his remarks to China Daily in an earlier interview.
John Zeng, managing director of LMC Automotive Shanghai, said even if the authorities allowed Tesla to establish a wholly-owned plant in a free trade zone, it would not set of an exodus of carmakers to similar zones, at least not in the near term. "Most of them have partners in China and they are unlikely to risk their relationships," Zeng said.
"Newly formed joint ventures, including JAC-Volkswagen, are there to help foreign automakers meet their quota of new energy cars, so they must be made outside of the free trade zones."
Yale Zhang, managing director of consulting firm Automotive Foresight, said he tended to see Tesla as an isolated case.
"Cars produced in free trade zones are not exempt from a 25 percent import tax, and unlike Tesla, which targets high-end customers, the additional cost will wipe out the price advantage for most volume brands," he said. Zhang said he did not think China would take a step so bold as to remove the investment cap for both gasoline cars and new energy vehicles very soon, arguing that Chinese automakers still have quite a low market share in the market.
Statistics from the China Association of Automobile Manufacturers show that Chinese automakers combined accounted for 42.9 percent of the Chinese passenger car market from January to September.
"Under such circumstances the authorities are unlikely to remove the cap all of a sudden," he said.