Chinese fintech firms set for flurry of IPOs in US, HK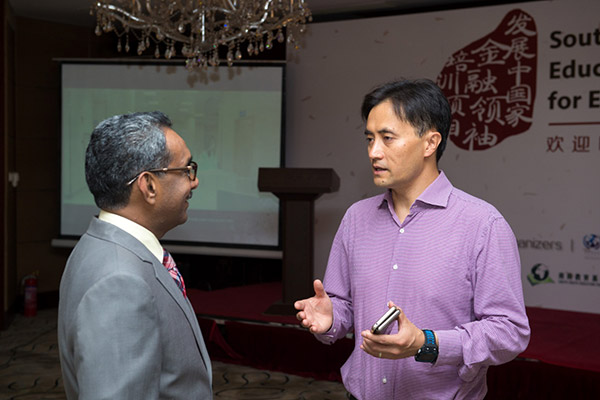 A student on the South-South Education Program of Economics and Finance chats with Ye Daqing, (right), founder of RONG360 Inc at the PBC Finance School at Tsinghua University in Beijing on June 30, 2017. [Photo provided to chinadaily.com.cn]
The phenomenon of "Chinese companies lining up for an IPO in the United States or Hong Kong" has re-surfaced recently, Tiger Brokers, an online brokerage helping Chinese investors trade US- or HK-listed stocks, told chinadaily.com.cn Thursday.
Several fintech companies in China are indeed preparing for IPO in the US or HK, Economic Information Daily also reported Thursday.
Beijing-based Jianpu Technology Inc, which is 100 percent controlled by RONG360 Inc filed its preliminary prospectus with the US Securities and Exchange Commission, without the estimated IPO price range, on Oct 20.
Jianpu said in the filing that its open platform, under the "Rong360" brand, has reached more than 56 million registered users and in the first half of 2017, over 2,000 financial service providers nationwide offered more than 100,000 financial products on the platform, including consumer and other loans, credit cards and wealth management products.
Prior to Jianpu, Chinese online small consumer credit provider Qudian Inc made its debut on the New York Stock Exchange on Oct 18. Qudian priced its IPO of 37,500,000 American depositary shares (ADSs) at $24.00 per ADS for a total offering size of about $900 million, according to Xinhua News Agency. Qudian closed at $26.39 Wednesday after diving 7.24 percent, still above its IPO price.
On Sept 28, China's internet-only insurer ZhongAn Online Property and Casualty Insurance Co Ltd went public on the Hong Kong Stock Exchange's main board after 199 million shares were offered at HK$59.7 ($7.65) per share, according to a China Daily report. ZhongAn closed at HK$76.85 Thursday.
"There will be a new wave of China concept stocks after these two to three years' quietness," said Tiger Brokers research team.
The companies planning an IPO could be aided by BAT (Baidu, Tencent, Alibaba), just like ZhongAn was or in a sector whose benchmarking company has already got listed and accepted by overseas investors, according to the report.
The report further said that share price of the Chinese fintech sector's benchmarking company Yirendai, a peer-to-peer lending company, has risen more than 15 times, compared with its lowest level.
Yirendai's shares opened at $10 on Dec 18, 2015, its first trading day on the New York Stock Exchange and in following months even dropped to as low as $3.35. However, Yirendai closed at $47.1 Wednesday.