Australian carmaking ends with last General Motors plant closing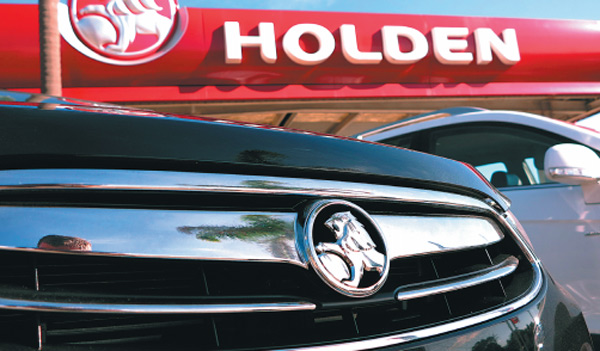 Holden cars sit in the yard of a Holden car dealership in Sydney, Australia. [Photo by Willian West/For China Daily]
Analysts debate 'perfect storm' of driving factors
The last mass-produced car designed and built in Australia rolled of General Motors Co's production line in the industrial city of Adelaide on Friday, as the nation reluctantly bid farewell to its auto manufacturing industry.
GM Holden, an Australian subsidiary of the United States automotive giant, built its last car almost 70 years after it created Australia's first, the FX Holden, in 1948.
Since then, an array of carmakers including Ford, Toyota, Nissan, Mitsubishi, Chrysler and Leyland have built and closed manufacturing plants in Australia.
After the last gleaming red Holden VF Commodore, a six-cylinder rear-wheel drive sedan, left the plant in the Adelaide suburb of Elizabeth that had grown over decades to provide its workforce, 955 factory workers clocked of for the last time.
"It's pretty tragic really that we've let go probably one of the best cars around the world," an auto painter who identified himself as Kane told reporters.
The 36-year-old worked at Holden for 17 years and starts a new job with an air conditioner manufacturer on Monday. But he knows many other former Holden employees won't find jobs so quickly.
Thousands of jobs in businesses that have supplied components and accessories to Australian auto manufacturers are also at risk.
"It's not the easiest thing. Life will go on," Kane said. Dozens of Holden enthusiasts gathered outside the factory, bringing with them generations of Holdens dating back to favored FJ models that were built between 1953 and 1956.
South Australia State Premier Jay Weatherill said car manufacturing was seminal to the state's industrial know-how.
"It has provided the backbone for our manufacturing capability in this state," Weatherill told reporters. "It's given us ... the capacity to imagine ourselves as an advanced manufacturing state."
Holden is an iconic Australian brand and has been a source of national pride for generations.
The V8 Holden Commodore has sold in the United States since 2013 as the Chevrolet SS.
The brand will survive, although Holdens will all now be imported from GM plants around the globe.
Holden retains design and engineering teams, a global design studio, a local testing ground, 1,000 employees and a 200-strong national dealer network.
The brand that became known as "Australia's own car" accounted for more than half of the new cars registered in Australia by 1958.
The reasons behind the demise of Australian auto manufacturing are numerous.
The first Holden cars were built in an era of high Australian tariffs and preferential trade with former colonial master Britain, which encouraged global carmakers to set up local factories to increase market share.
Australian import tariffs have since tumbled through bilateral free trade deals with car-manufacturing countries like the United States, Japan, China, South Korea, Thailand and Malaysia.
The Holden workers' union blames a lack of government support through subsidies for GM's decision to end manufacturing. There had been debate about whether the 7 billion Australian dollars ($5.5 billion) that the government spent on the car industry in subsidies since 2001 was worth the jobs that it created.
Prime Minister Malcolm Turnbull said the closure was due to a "perfect storm" of factors.
The factors included the value of the Australian dollar, which due to a mining boom was for the first time stronger than the greenback in 2013 when the last three carmakers GM, Ford and Toyota announced that they would close.
Other factors were high production costs, a small domestic market in an Australian population of 24 million, and the most competitive and fragmented auto market in the world, with more than 60 car brands on sale. "You can't get away from the emotional response to the closure," Turnbull told Melbourne Radio 3AW on Friday.
The Associated Press