Vienna Chamber to pursue B&R opportunities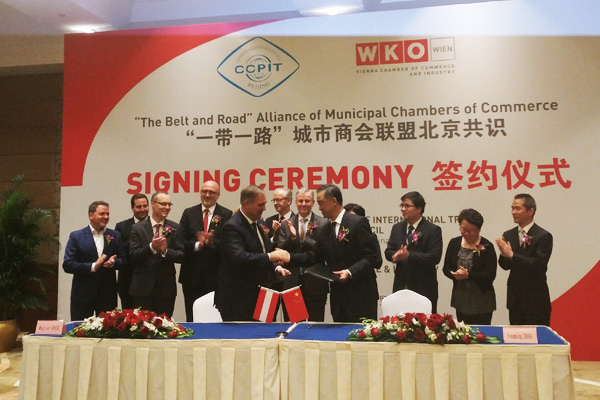 Walter Ruck, left, president of the Vienna Chamber of Commerce and Industry, shakes hands with Zhang Yongming, president of CCPIT Beijing, at a signing ceremony held in Beijing on Oct 23, 2017. [Photo provided to chinadaily.com.cn]
Austria's Vienna Chamber of Commerce and Industry signed a cooperation agreement with the China Council for the Promotion of International Trade Beijing sub-council in Beijing on Monday.
The cooperation agreement, known as the Beijing Consensus, is formulated for members of the Belt and Road Alliance of Municipal Chambers of Commerce, a cooperation platform established by municipal chambers of commerce and organizations from countries involved in or interested in the Belt and Road Initiative.
Walter Ruck, president of the Vienna Chamber of Commerce and Industry, said as the China-proposed Belt and Road Initiative is bringing new vitality to the involved countries, the chamber wants to encourage its member enterprises to participate and seize business opportunities.
He said the signing of the agreement is a big step for both China and Austria, narrowing the distance between the two markets.
"Many Chinese companies, from big corporations such as the railcar manufacturer CRRC Corp to small restaurants, are operating businesses in Austria," Ruck said in an interview with chinadaily.com.cn. "Based on the agreement, we can help both Chinese and Austrian companies to open channels of communication and perfect the communication mechanism."
He said the Industrial and Commercial Bank of China is in talks with the chamber to set up a branch in Vienna.
"Once the branch is established, it will bring opportunities for local companies to get financing," Ruck said.
Zhang Yongming, president of CCPIT Beijing, said at the signing ceremony that "the Belt and Road Alliance of Municipal Chambers of Commerce is a platform that can promote mutual trust and cooperation among enterprises as well as a bond that can form a joint force of business services.
"By establishing smooth information cooperation, the alliance enables enterprises to communicate and obtain accurate, authoritative information, which can make cooperation more convenient and effective."
In addition, the alliance, marshalling the strengths and business advantages of different countries, regions and cities, can provide comprehensive services for cross-border operations and cooperation of enterprises, he said.