Hebei province issues its first toll road special bonds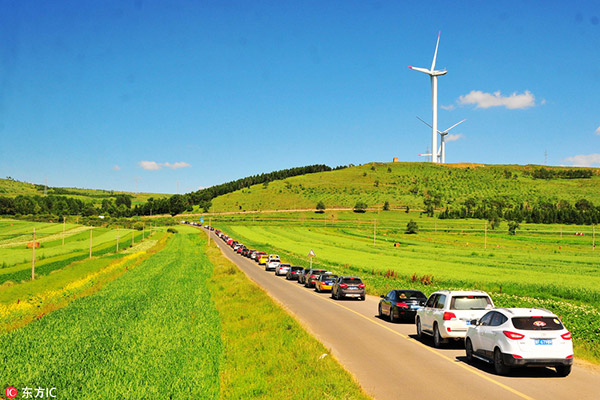 Cars on a road in Chongli county, Hebei province, July 30, 2017. [Photo/IC]
Hebei province issued its first batch of toll road special bonds worth 2.1 billion yuan ($317 million) at Shenzhen Stock Exchange on Friday.
According to Shenzhen Stock Exchange, the issuance consists of 100 million yuan 7-year bonds and 2 billion yuan 7-year bonds with fixed-interest at 3.98 percent and 3.9 percent, respectively.
The funding will be used to build two government-operated toll expressways in the province, including 100 million yuan to build Xibaipo expressway project and 2 billion yuan to build Hebei section of Yanqing-Chongli expressway project.
Xibaipo expressway project connects Hebei province's capital Shijiazhuang and Xibaipo, a village that was temporary headquarters of the Communist Party of China Central Committee from 1947 to 1948, now is one of the significant red tourism spots in China.
After the project will be completed, it will speed up development of the old revolutionary base.
The issuance will also provide strong supports to Beijing 2022 Winter Olympic Games, said Economic Information Daily citing Finance Department of Hebei province.
The Yanqing-Chongli expressway is a transportation security project to the upcoming event. During the Games, the expressway will be a main route to Chongli competition area from Beijing.
Previously, the Ministry of Finance announced a program that allows local governments to issue special bonds to support the construction of toll roads in July this year.
The move can standardize local government debt issues as well as help prevent and defuse debt risks in the transport industry.