PBOC: Debt levels not worrisome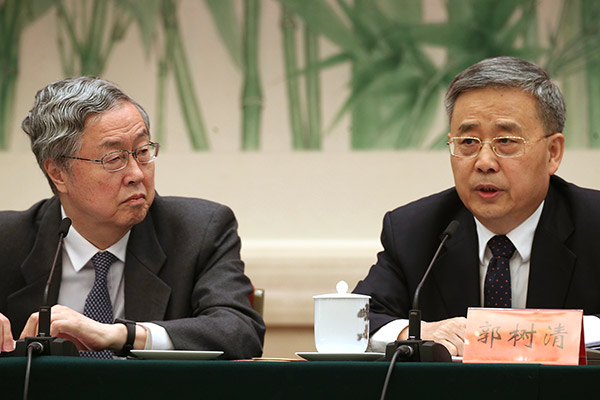 Central bank governor Zhou Xiaochuan (left) and Guo Shuqing, chairman of the China Banking Regulatory Commission, at the 19th National Congress of the Communist Party of China, Oct 19, 2017. [Photo/China Daily By Edmond Tang]
Central bank says liabilities are small for one of world's major economies
China's debt ratio is controllable and a fast deterioration is unlikely, as measures have been taken to prevent potential risks, despite a relatively high level of corporate debt, the central bank governor said at the 19th National Congress of the Communist Party of China on Thursday in Beijing.
The risks of a sudden collapse of asset prices can be avoided while the tightening regulation on local government financing vehicles will continue to take effect, said Zhou Xiaochuan, governor of the People's Bank of China.
Zhou said that household debt is rising fast although the total debt amount is relatively small compared with the world's other major economies.
The governor urged to push forward the foreign exchange reform which allows the market's supply and demand relationship to determine the yuan's value, along with a deepened opening up of the financial sector and welcoming competition from foreign financial institutions.
A possible reform measure could be to expand the yuan's trading band, which is at 2 percent up or down around the daily reference rate, said some experts. However, Zhou said it is not a key issue at the moment as the current exchange rate band has very limited impact on the market's supply and demand.
The central bank released data on Thursday that it purchased a net 850 million yuan ($128 million) of foreign exchange last month, the first monthly net purchase in about two years, compared with net sales of 821 million yuan in August, indicating an ease of capital outflows and a strengthening currency.
Pan Gongsheng, head of the State Administration of Foreign Exchange, said the priority for future foreign exchange management work would be to support the development of real economy, and facilitate the two-way opening up of the financial sector. Measures will focus on further freeing the yuan's usage in cross-border investment and trade, and gradually achieve an exchangeable capital account.
"To supervise the capital flows and prevent potential risks under the Macro Prudence Assessment framework will also be one of the key tasks," said Pan.
To battle against capital outflows and to curb the yuan's depreciation since last year, the country's foreign exchange regulator has taken measures to tighten capital controls while maintaining a stable currency value.
A statement on the administration's website said on Thursday that the interest rate hikes by the US Federal Reserve and its plan to reduce the purchase of Treasury bonds and securities will not bring fluctuations in cross-border capital flows, and would help maintain a close eye on the stability of the country's foreign exchange market.