Tesla says in talks to build auto plant in Shanghai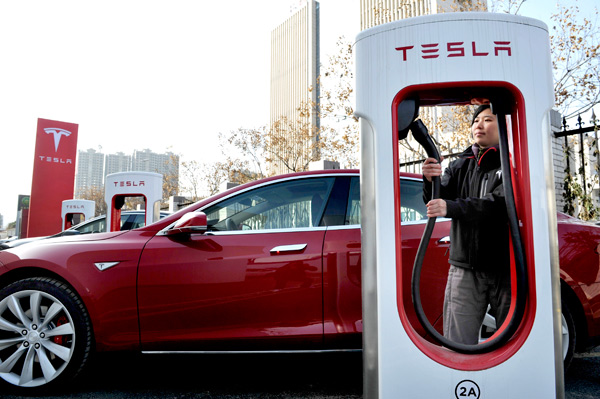 A driver uses Tesla's charging station in Xi'an, capital of Shaanxi province. [Photo by Liu Qiang/For China Daily]
US carmaker likely to make electric vehicles in city's free trade zone
Tesla Inc confirmed on Monday that it is in talks with the Shanghai authorities for local production of electric vehicles.
The US firm is exploring the possibility of establishing a manufacturing facility in Shanghai to better serve the Chinese market, said a representative at its China operations referring to a statement made by the company in June. "As we have said before, we expect to more clearly define our plans for production in China by the end of the year."
The representative declined to comment on a Wall Street Journal report on Sunday that Tesla has already reached a deal with the Shanghai city government and would build a wholly-owned manufacturing facility in the city's free trade zone.
If the plans are indeed true, it would allow Tesla to slash the production and shipping costs of its cars sold to China. But since the cars would be manufactured in the city's free trade zone, it would not get exemption from the import tax of 25 percent.
At present, Tesla has just one manufacturing facility globally-in California, which has been facing several production bottlenecks.
The company is also looking to better expand its presence in the Chinese market, home to about 1 million new energy cars by the end of 2016.
On Monday the carmaker unveiled in Shanghai its largest charging station, which can accommodate 50 Tesla cars at the same time. So far Tesla has 700 charging posts in 170 Chinese cities.
Last week Tesla announced that it has modified the charging hardware on Tesla vehicles built for the Chinese market so that they can make use of the public charging infrastructure in the country.
If Tesla were to build a wholly-owned plant in China, it would be a major change in the country's industrial policies which only allow foreign firms to set up joint ventures with local partners, be it inside or outside the free trade zones.
Last month the Ministry of Commerce and the National Development and Reform Commission had said that China would further open up the new energy vehicle sector.
Yale Zhang, managing director of consulting firm Automotive Foresight, said Tesla's localization efforts, because of lower costs, will benefit its sales in China and the plant would also become a hub for other Asian markets.
Tesla delivered 13,500 cars in the first nine months of 2017 in China, more than double from a year earlier, according to the China Passenger Car Association.
Zhang said the move will also help boost China's new energy car sector as a whole. "For instance, Tesla is more likely to work with local suppliers instead of shipping parts from overseas," he said.
John Zeng, managing director of LMC Automotive Shanghai, said Tesla will set a good example for China's new energy carmakers, most of whom are producing low-end cars.