Tesla modifies models for China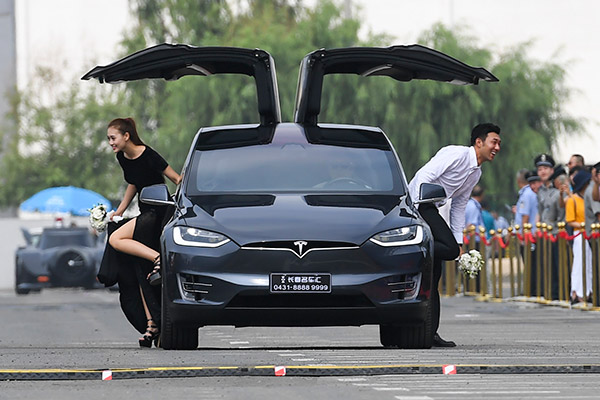 Two staff present the exhibition car from Tesla at this year's China Changchun International Automobile Expo in Changchun, Jilin province. [Photo provided to China Daily]
US carmaker will retrofit charging network, adapting to local standards
BEIJING-Tesla Inc is modifying new cars delivered to China and retrofitting the charging network in the country to comply with domestic norms, a move that could boost its sales in the world's largest electric vehicle market.
Starting in November, Tesla will deliver to Chinese customers Model S and Model X cars with a new charging port based on China's GB standard, a company spokeswoman said via WeChat on Monday. Palo Alto, California-based Tesla aims to complete the retrofitting of its Supercharger stations and destination charging sites in China by next spring, it said.
Sales of electric vehicles have been hampered by so-called range anxiety-a fear of running out of electricity while on the road-that has been exacerbated by the incompatibility of Tesla's vehicles to charging facilities built by China's State Grid. The company said in 2015 that it will modify its vehicles to fit national standards in China, home to Tesla's biggest charging network outside the US.
"It is extremely important to us that Chinese customers be able to easily charge their vehicles for daily charging and long-distance travel," Tesla said in a statement posted on its Chinese website.
Cars with ports conforming to local rules will enable Tesla owners in China to plug into stations operated by others as well. Existing Tesla vehicles in China will be provided with adapters to plug in to the retrofitted networks and infrastructure of other operators.
Tesla has been rushing to expand its charging network and currently runs 951 Supercharger stations and 6,550 Supercharger posts globally that enable cars to be refilled in less than an hour, according to its website. In China, it will have more than 1,000 such facilities by the end of the year. The company delivered 13,500 cars to China in the first nine months of 2017, more than doubling from a year earlier, according to data provided by the China Passenger Car Association.
"Tesla is facing greater competitive pressures from Chinese electric vehicle makers" providing cheaper models, Cui Dongshu, general secretary of the association, said by phone on Monday. "It is important for Tesla to adapt to the China market faster and promote their cars beyond top-tier cities, with greater access to charging facilities."
BLOOMBERG