Tesla eyes Shanghai for its new auto plant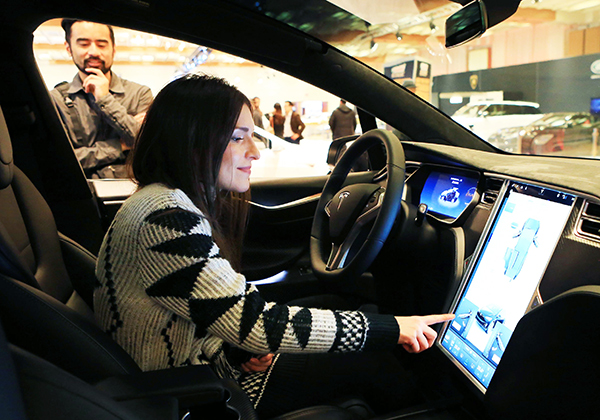 A woman experiences the touch screen of a Tesla car during an auto expo in Toronto, Canada. [Photo/Xinhua]
US electric car manufacturer Tesla Inc will produce vehicles soon in China to seize a bigger share of the world's largest new energy vehicle market.
Tesla's production facilities would be located in Shanghai's Lingang Economic Development Zone, and an agreement could be announced as soon as this week, Bloomberg News reported.
Representatives of Tesla China were not available for comment on Tuesday.
But a source with China (Shanghai) Pilot Free Trade Zone, where Lingang is located, said on condition of anonymity on Tuesday that an announcement is likely to be seen on the Shanghai government website on Thursday.
Tesla does not release sales figures by country. But statistics from LMC Automotive Consulting Shanghai show it sold 10,399 cars in China last year, up by 181.7 percent year-on-year.
Yale Zhang, managing director of Automotive Foresight, said sales are expected to grow after localization as assembling vehicles in China would allow the company to avoid a 25 percent customs tax.
The possible partnership came after China's top planning body voiced its support for international cooperation in electric cars, plug-in hybrids and fuel cell cars.
Last week, the National Development and Reform Commission said automakers are encouraged to make the most of international technologies, capital and human resources to raise the level of China's new energy vehicle sector.
To facilitate cooperation, the authorities have even removed the limit on the number of joint ventures international automakers can have in China-two in one segment, as stipulated in the decades-old industry guideline.
Tesla would need to set up a joint venture with at least one local partner under existing rules.
"If it is to be in Shanghai, the city-headquartered SAIC Motor would be a natural choice," Zhang said.
In addition to Shanghai, several other locations in the country had been rumored to host Tesla since its arrival in 2015.
Guangdong was said in April to be Tesla's choice after Tencent Holdings Ltd, which is headquartered in the province, bought a 5 percent stake in Tesla for $1.8 billion a month before.
Tesla soon denied the report, but said it is "deeply committed to the Chinese market".
China sold 507,000 new energy vehicles last year, ranking first worldwide, and the government expects such cars to reach 2 million sales by 2020 and to account for 20 percent of all auto sales by 2025.
Statistics from the China Association of Automobile Manufacturers show that new energy vehicle sales in the first five months of this year totaled 136,000, for a 7.8 percent growth year-on-year.
The CAAM estimated at the start of the year that their sales could hit 800,000 vehicles in 2017. Xu Haidong, an assistant to the organization's secretary-general, said they are confident in the market and will not alter the estimate.