JAC teams up with Baidu on autonomous cars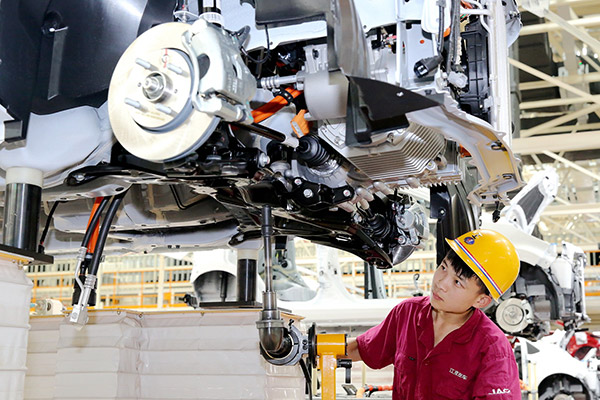 A worker fastens a screw at a production line in a JAC Motors plant in Anqing, Anhui province. [Jiang Sheng/for China Daily]
China's JAC Motors said on Tuesday that it will produce autonomous cars with the country's internet giant Baidu Inc, with the first mass-produced model scheduled to roll off the assembly line in 2019.
The announcement came in Shanghai, as the automaker delivered 32 cars to Baidu to collect information for high-definition maps.
JAC Motors' share price rose to a six-week high of 10.29 yuan ($1.53) on Wednesday morning, but dipped a little to close at 9.95 yuan, a 4.08 percent rise from the previous day.
The cooperation came within two months of Baidu's launching its Apollo plan, which aims to provide open, comprehensive, and reliable software for the development of autonomous vehicles.
JAC Motors said that Baidu will offer a comprehensive solution that covers high-definition maps as well as location, sensing, planning and decision-making technology.
But the automaker did not reveal how it will acquire the important hardware required for such vehicles. Automotive suppliers, including Bosch, are currently involved in the Apollo plan.
According to Caixin magazine, Li Weibing, a senior executive at JAC Motors, said the two sides are planning to base their development on a new energy car and the first car is expected to be finished in early 2018 for testing autonomous functions.
When mass-produced in 2019, the model will be technologically prepared for Level 3 autonomous functions, based on the six-level framework defined by the Society of Automotive Engineers International.
Analysts said a key difference between Level 3 and Level 2 functions, like those found in Tesla cars, is that drivers will be allowed to take their eyes off the road and perform other activities under certain traffic or environmental conditions.
But Li added that whether the model finally available in the market has Level 3 functions will depend on a number of conditions, including whether such cars are allowed to hit the road.
China currently does not have legislation in this regard, but autonomous cars are currently not allowed to be tested on public highways.
Last month in Spain, Audi debuted an A8 sedan with Level 3 functions, which will reach the market in 2018. Meanwhile Ford and Volvo are planning to skip Level 3 to Level 4, at which a vehicle can drive itself without human intervention in most driving conditions.