VW, JAC launch green-focused joint venture to stay ahead of the curve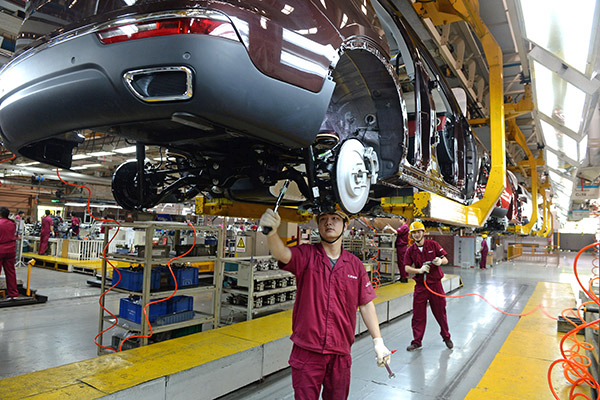 Workers install chassis on a production line of JAC Motors. [Photo/China Daily]
Volkswagen, which translates to "the people's car" in German, is living up to its name in China.
Last year, the automaker sold nearly 4 million cars in the country, beating all other carmakers with operations in the world's largest auto market.
Late last month, the German company's premium arm, Audi, which had been sales champion in China's premium car segment until last year, successfully persuaded its current partners to introduce another manufacturing partner and expand its sales network.
Late last week, during Premier Li Keqiang's visit to Germany, the brand signed an agreement with JAC Motors to develop, produce and market electric vehicles and mobility services in China, preparing to charge ahead at full speed in the country's new energy vehicle market.
JAC Motors, a State-owned carmaker in East China's Anhui province, produces and sells passenger cars and commercial vehicles.
Volkswagen has long made clear its ambition: to deliver 400,000 new energy vehicles to China in 2020, a quarter of Chinese authorities' latest sales goal for the year.
Jochem Heizmann, president and CEO of Volkswagen Group China, told reporters earlier this year that about a quarter of its 2020 sales are expected to come from the new joint venture, JAC Volkswagen.
The 50:50 partnership will have a total investment of 6 billion yuan ($882 million), according to JAC Motors, and is making Volkswagen the first international automaker to have three partners in China.
Its first model, which will be produced at existing JAC facilities, is expected to roll off the assembly line in 2018.
That would give Volkswagen a head start in the country, as the first localized electric car from its major rival GM will not hit the market until at least 2019 and Ford's first after 2020.
Matthias Mueller, CEO of Volkswagen Group, called the new joint venture a milestone in its electric offensive in China. Mueller said, "Just as we have played a key role in shaping mobility together with our partners in China over the past 30 years or more, we want to play our part in shaping the mobility of the future: electric, fully networked and in line with the needs of our customers."
Industry insiders said JAC Motors is also expected to benefit from the partnership in terms of both sales and research capabilities, as the joint venture will also build a research and development center in addition to a plant that can produce 360,000 cars a year. It will also produce components for new energy vehicles and develop vehicle connectivity and automotive data services.
JAC Motors' president, An Jin, said, "Our company is very confident about the prospects of this joint venture with one of the world's leading automotive groups."
JAC Motors sold about 640,000 passenger cars, commercial vehicles and chassis last year, including 18,000 new energy vehicles.