Audi and angry dealers to reach consensus in days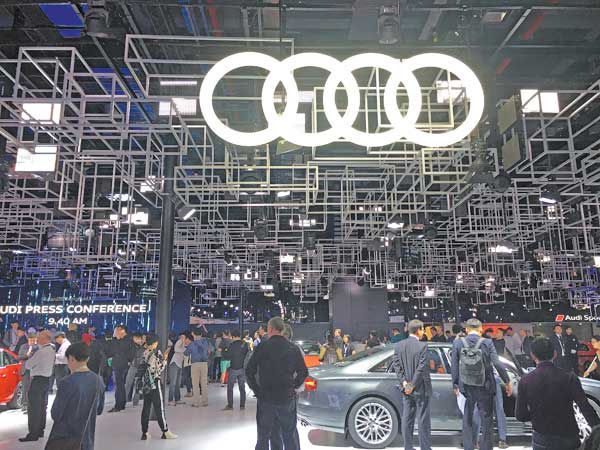 People gather around the Audi's stand at the Shanghai auto show on April 19. [Photo by Li Fusheng/China Daily]
Audi AG and its China dealers are to stop their months-long row "in days" over its plan to develop a second joint venture in the country, said senior executives of its parent company, Volkswagen AG, during the current Shanghai auto show.
This statement comes after after the premium brand's China sales slumped in the first quarter of the year.
The German brand sold 108,700 cars in the first three months of 2017 on the Chinese mainland and Hong Kong, a 22.1 percent fall year-on-year.
This drop in sales was in large part due to dealers' resistance to its plan to produce and sell cars with SAIC Motor, fearing the move would affect their business in the already competitive market.
The dealers are from the sales network built by FAW-Volkswagen, which is currently localizing Audi models.
Matthias Mueller, CEO of Volkswagen AG, said: "We are not happy with Audi's China sales in 2017. But I want to make it clear that Volkswagen Group China is holding constructive talks with FAW, FAW-Volkswagen and Audi dealer representatives.
"The talks are not yet finished but fruitful progress is being made. I am sure that all parties concerned will reach a consensus on deepening cooperation and will accept Audi's plan to build a second joint venture with SAIC."
Jochem Heizmann, president and CEO of Volkswagen Group China, said the parties involved are reaching a consensus on current issues. "When I say we are reaching a consensus, I mean we are reaching it in days, not in weeks," he said.
Heizmann said the parties had held a round of talks in late March, which produced very good results that would be reflected in Audi's sales this month.
However, he did not disclose any more details on the talks nor any conditions for the dealers to stop their protests, which have continued since Audi and SAIC signed a memorandum in November.
Chinese media outlet QCTT reported last week that Audi would offer dealers a total of 3 billion yuan ($435 million) in compensation for their claimed losses in 2016, but said neither Audi China nor FAW-Volkswagen's Audi unit had confirmed this agreement.
Despite a forthcoming consensus, Heizmann admitted that the Audi cars from the would-be joint venture with SAIC will not come out soon. "You will not expect them in days or weeks, but in years," he said. Heizmann has been firm in the view that Audi should have a second partner in China. "We are confident in the growth potential of the Chinese car market, especially the premium segment."
About 2 million premium cars were sold in China last year, with Audi being the leader, as in past decades, followed by BMW and Mercedes-Benz.
While Audi's China sales tumbled in the first quarter of this year, there were signs that the rankings would be reshuffled this year, according to many industry insiders.
Mercedes-Benz, which was No 3 in sales last year in China, led the first quarter with 144,900 cars sold, a 37.3 percent growth year-on-year. BMW ranked second, selling 142,800 vehicles in the first three months, up 12 percent year-on-year.
When asked whether Audi can defend its No 1 position this year, Mueller said nobody would know the results before the end of the year. "But before we can see the results, we must do something first. I think people can see our sincerity and the importance we attach to the Chinese market." Volkswagen AG said it will invest 30 billion yuan this year in products, research and development as well as other business activities in China.