Sedric embodies goals for future mobility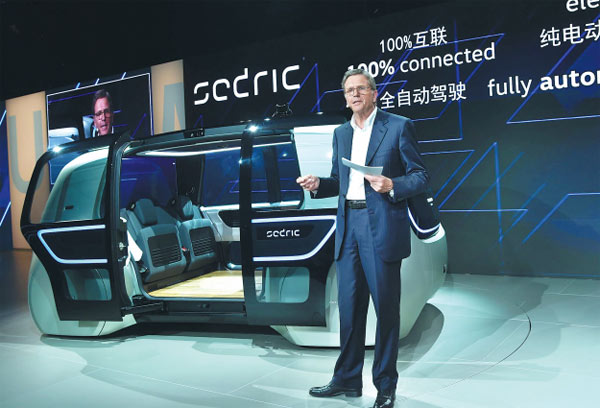 Jochem Heizmann, member of the board of management of Volkswagen AG, as well as president and CEO of Volkswagen Group China, introduces the Sedric self-driving concept car at the Shanghai auto show on April 18. [Photo provided to China Daily]
The idea of vehicles driving themselves to your destination while you relax and chat, though still sounding like the stuff of science fiction, is moving faster to reality than most of us think. In fact, a vehicle that can do just that is already in China.
Volkswagen Group China presented Sedric, a fully-autonomous car concept unveiled a month ago in Geneva, at the Shanghai auto show.
The group's first car created for level-5 autonomous driving-for which a human driver is no longer required-the Sedric opens the door to an integrated mobility system of the future, and is the aspiration of the group to make mobility accessible for everyone.
The interior contains no steering wheel and no pedals, taking on the function of a comfortable lounge on wheels. The carmaker said it has been systematically developed to meet users' needs: touch a single button and the car drives up, recognizes you and opens its doors. Get in, stow your bags, take a seat and the Sedric will take you to your destination.
The concept demonstrates a raft of futuristic technologies that Volkswagen expects to begin showing up in their brands' cars in the future and represents a connected world in which people move through life more easily.
Jochem Heizmann, member of the board of management of Volkswagen AG as well as president and CEO of Volkswagen Group China, said the company is convinced that fully-automated vehicles will make city life better, more eco-friendly and, above all, safer.
"Sedric brings into reality a way of life that has been dreamed about for generations," he said.
In China, Volkswagen is working in a wide range of fields it believes will usher in a whole new era of mobility for all people.
It sees China as fertile ground on which to develop the technologies and services that will underpin this era, and is therefore joining hands with groundbreaking Chinese companies who are leaders in their fields.
Earlier this month, it announced a 50:50 joint venture with the dynamic Chinese developer of artificial intelligence and voice recognition technology, Mobvoi Inc.
"Artificial intelligence is poised to transform the way businesses operate by automating tasks in every field, making life simpler and easier and providing a gateway to mobility for everyone," Heizmann said.
The new joint venture will develop and apply AI technologies to the automotive industry, with the potential to be adopted globally.
Heizmann sees such cooperation as key to the company's Together-Strategy 2025.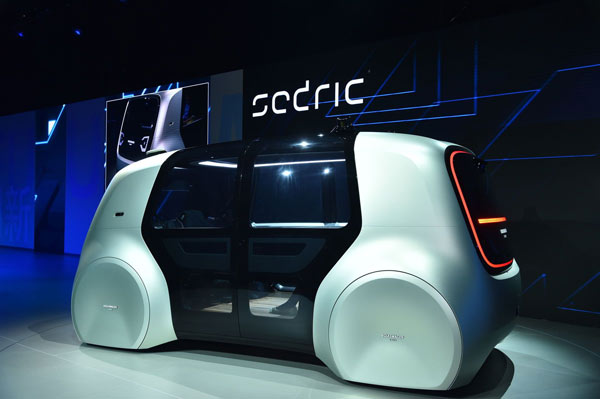 Sedric represents Volkswagen's aim to make mobility accessible to everyone. [Photo provided to China Daily]
"Together with even more Chinese partners, we are shaping tomorrow's mobility," he said. "Volkswagen Group China aims to make daily use of a car even more convenient for Chinese customers, as well as improve everyone's access to mobility."
In e-mobility, Volkswagen's cooperation with JAC to build pure battery cars is progressing and, subject to regulatory approvals, is ready to build its first cars for the competitive mass market segment in 2018.
Meanwhile, it will serve its customers in the fast-growing pre-owned car market in cooperation with its long-established car-manufacturing joint ventures.
Volkswagen Group China's vision is not limited to products. The group is exploring how to improve the efficiency of urban transportation and contribute to urban planning through potential multi-party cooperation with partners including Tongji University and fast-developing cities in eastern China and the Yangtze River Delta area for a Smart City initiative.
"Mobility for all people was our goal when we came to China more than 30 years ago. Now we are ready to take the next big step. We want to improve the quality of living for all people," Heizmann said.
Volkswagen said the partnership aims to pilot innovative smart mobility solutions that will ultimately free people to enjoy more benefits of city life. This could include setting up a green and connected shared mobility fleet for today, and possibly a future fleet of autonomous cars using technologies such as those demonstrated by Sedric.
While the focus is on the future, the company is also working closely with its longtime partners, SAIC Motor and FAW, to meet the current needs of its customers. It plans to launch 30 models in China this year, while its product offensive in the fast-growing SUV segment is under way.
"We always keep in mind that the basis of our success in this country, which is still on the move, are the excitement of our Chinese customers, our partners, long-established and new, and the quality of our products on the street," Heizmann said.