Valeo Group sales to continue to grow in China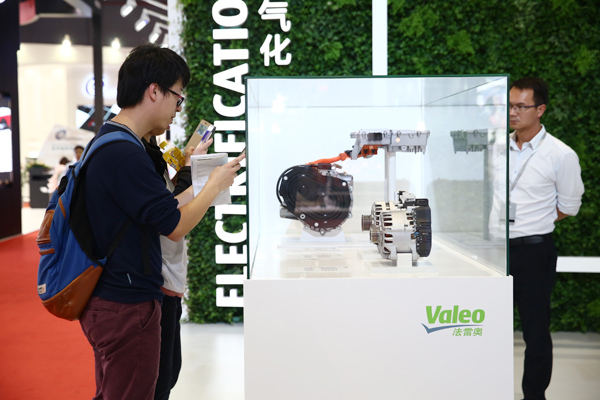 Visitors examine the products of the Valeo Group at the Shanghai auto show in April, 2017. [Photo provided to chinadaily.com.cn]
French automotive supplier Valeo Group's sales revenue is up 22 percent from the same period last year, and has reached 4.8 billion euros ($5.26 billion) in the first quarter of 2017. China, for the Valeo Group, is one of the fastest growing markets.
Of the revenue, original equipment sales totaled 4.17 billion euros, a 21 percent growth year-on-year, which was much higher than the average of the global automotive production industry.
When it came to China, the first-quarter growth rate of original equipment sales firmly stood at 25 percent. Representatives of the Valeo Group said it was driven in particular by the strong growth with Chinese brands, accounting for more than 40 percent of the group's total sales in the country.
They added the pace of growth would enable the Valeo Group to double its sales in China in the next four years. In 2016, its sales revenue grew 14 percent to 16.5 billion euros, of which 28 percent was from China.
As part of its efforts to better meet demands of Chinese brands, the Valeo Group demonstrated 14 innovative technologies–ranging from electrification, autonomous and connected car to new mobility services segments–at the Shanghai auto show which concluded in late April, 2017.
The CEO and Chairman of the Valeo Group, Jacques Aschenbroich, said China, as the world's largest auto market, was a priority for the group's future development.
He made his remarks when the group opened a new research and development facility in Wuhan, at capital city of Hubei province, during April, 2017.
Aschenbroich said the technical center, which focuses on lighting technology and driving assistance systems, would further help it to take root in China and better serve global markets.
The first Valeo Group facility in China was built in 1994. The group now has 13 research and development centers, 30 manufacturing facilities and another 12 projects under construction across the country.