Electric innovation drives group's long-term strategy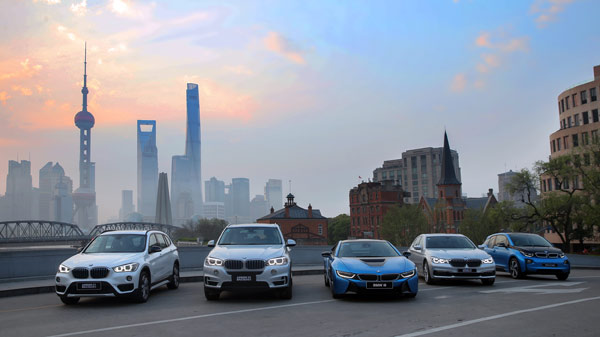 All BMW production locations are preparing for electrification of their models and series. [Photo provided to China Daily]
BMW Group is extending its leadership to the new energy arena with an eco-system starting from the birth of the drivetrain to the destination of recycling, as the company views electric premium mobility as the key to its future growth.
The world's leading luxury mobility company has been a pioneer in the field of electric-mobility in the Chinese market, where it has established significant advantages, through both localized self-development and partnerships with Chinese suppliers.
"This means that BMW aims to electrify all its brands and model series, and our goal is sustainable mobility," said Harald Kruger, chairman of the management board of BMW AG. "The vehicle drivetrain mix will be decided by the customer at the end," he said.
All BMW production locations are preparing for electrification of their models and series, as part of its Strategy Number One > Next.
An electric drivetrain plant has been constructed in Shenyang city, Liaoning province, and is set to start production this year.
The plant makes BMW the only premium brand to build a high-voltage battery assembly line in China to localize its new energy products.
The group's Sino-German joint venture, BMW Brilliance Automotive, has been working with Fujian province-based battery maker Contemporary Amperex Technology.
After BMW shared its knowhow and helped the battery maker to become a qualified supplier, CATL grew speedily into one of the major industry players by volume on localized new energy vehicles.
CATL is now one of the two domestic battery makers to have sold more than 6 Gigawatt Hour worth of products, and is recognized as a possible future market leader.
"BMW Group will soon be able to assemble cars with both drivetrains on the same line. We only need one car body construction to produce models with a combustion engine or an electric drivetrain," Kruger said.
"That's a result of our project i. From 2020, project i 2.0 will enable us to introduce pure battery-electric models for each of our lineups. The benefits of this are maximum flexibility for planning and production."
The "i" refers to innovation. As with project i, BMW i will once again be a key element within the strategy.
The next level of BMW i will be unveiled in 2021 in the name of iNext, and it will develop modular kits for electrification across all brands and segments of the group.
BMW will of er the tantalizing prospect of between 15 to 25 percent of its vehicle range in 2025 being electrified cars, including fully-electric models and plug-in hybrids. Electrified vehicles accounted for around 2.6 percent of group sales in 2016. The German group's vision for 2025 which outlines a promising economic future for premium mobility products and services is in line with China's 15-year new energy vehicle development roadmap, which defines the sector's goals to be reached by 2030.
BMW Group had sold more than 120,000 electrified cars worldwide as of March 2017, twice as many e-cars as in the same period last year, demonstrating its strong position in the new energy vehicle market. BMW will continue to drive ahead toward a global sales volume of another 100,000 electrified vehicles this year.
In the hope of attaining leading positions in more segments, a pure electric Mini will be launched by 2019, and the pure electric X3 will be launched in 2020, according to the company plan.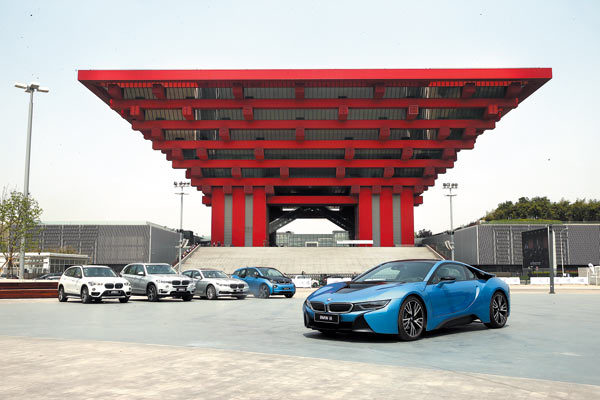 Featuring sustainable mobility and high-end technologies, BMW's new energy lineup catch visitors' eyes at the 2017 Shanghai auto show. [Photo provided to China Daily]
NEV eco-system in China
X1 PHEV, the first model from BMW's new energy family, became localized.
The trend-setting "family" has since grown to five members, including the imported BMW i3, i8, X5 xDrive 40e and 740Le.
Synchronizing with burgeoning new energy vehicle users, BMW has laid a solid ground for the e-mobility ecosystem with the charging networks, the largest private charging installation service network in 100 cities in China, covering 90 percent of tier 1-3 cities.
And they will be using the new generation wall box for premium family charging solution, it only takes 3.8 hours to charge the BMW i3 and will be thereby the fastest AC charger in the market.
This year, the BMW users will see nearly 50 percent growth in the public charging network (2,500 pillars in 15 cities), and a more extensive BMW i and PHEV dealer network in tier 1-3 cities.
"With qualitative improvements at the top of the agenda, BMW Group aims to continue sustainable growth in China in the next 12 months and beyond," said Olaf Kastner, president and CEO of BMW Group Region China.
The e-mobility eco system also makes battery recycling a critical part of BMW's plan for full sustainability through its collaboration with Hunan Brunp Recycling Technology Co. Their recycling rate has reached 98.5 percent, well above the national standard of 95 percent, setting another standard in the country.