BMW Plant Now Tourism Site
Carmaker's Tiexi facility in Shenyang now shares an inside look with guests
China's first auto plant to be recognized as a national 4A tourist attraction, BMW Brilliance Plant Tiexi, is an example of the carmaker's efforts to boost sustainable development in the industry, said its senior executives.
Plant Tiexi in Shenyang, capital of Liaoning province, was approved as a national 4A-level tourist attraction recently after an assessment by the Liaoning Tourist Attraction Rating Commission.

"The recognition of Plant Tiexi illustrates the excellent synergy between BMW Brilliance's development roadmap and China's 13th Five-Year Plan (2016-20), both of which are driven by innovation, coordination, green development, openness and collaboration," said Johann Wieland, president and CEO of BMW Brilliance Automotive.
"The intelligent and eco-friendly production technologies used at the plant demonstrate the shared principles of Germany's Industry 4.0 and China's Made in China 2025 plans," he said.
The plant is distinguished by its state-of-the-art production facilities, eco-friendly and stylish architectural design and people-orientated services.
It is expected to benefit the local community by inspiring scientific and technological innovation and attracting more tourists.
Wieland said that this historic milestone will give BMW Brilliance even greater means to contribute to Liaoning's economic development and support China's northeastern region.
"Together with every associate, we will lead innovation, promote sustainable development and comprehensively deepen our strategic corporate social responsibility," he said.
Green production
The Sino-German joint venture has beefed up its green production through the incorporation of innovative technologies into its local plants. Already a leader when it comes to sustainable operations and products in China's auto market, the company continues to look for ways of protecting the local environment and reducing emissions by adopting green technologies.
"We provide products that have minimal impact on the environment and we produce in a responsible way," said Wieland. "And we consider sustainability absolutely key to our continued success and China's sustainable development."
BMW Brilliance Plant Tiexi itself serves as a model of sustainable development and represents the future of automobile manufacturing.
The plant has a highly advanced and systematic layout and was specifically designed to minimize its impact upon the environment, especially regarding energy conservation.
The first section completed in the plant's construction was the 'energy source tunnel', through which electricity, water and heat are supplied centrally.
In the event of future expansion of the plant, this strategy will ensure only minimal requirements for labor, materials and investment since there will be no need for additional tunnel excavation.
The production building maximizes natural ventilation and utilizes underground water for temperature regulation to preserve electricity.
The building, which consists of the production area and the office area, is controlled by an intelligent management system which analyzes more than 10,000 24-hour monitoring cameras. The system is capable of automatic analysis and adjustments.
Engagement
The main office building is an open-plan space which blends the office areas with a cultural exhibition zone, making the workplace a spacious, comfortable and stimulating area for associates to carry out their roles.
To provide every visitor and BMW associate with a pleasant and comfortable environment, the plant is complete with a range of facilities such as a canteen, medical center, fitness center, cafe and art gallery, a perfect illustration of BMW's people-orientated brand concept.
To ensure the public gain the most from their experience, BMW Brilliance's information technology department has developed a comprehensive digital service that focuses on maximizing visitor convenience and personalization. A tailor-made app provides practical functions, including online reservation capability, online payment, facial recognition and a means for visitor feedback. It also features a unique location-based service technology, which provides visitors with all the information they need to know about the plant.
haoyan@chinadaily.com.cn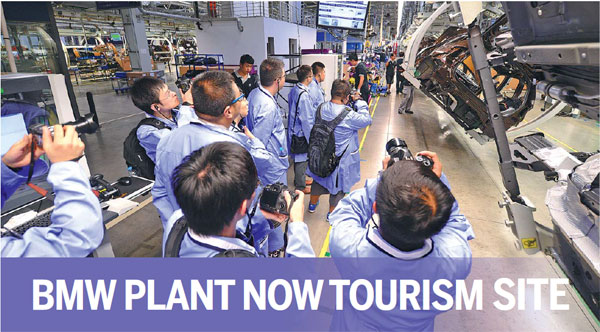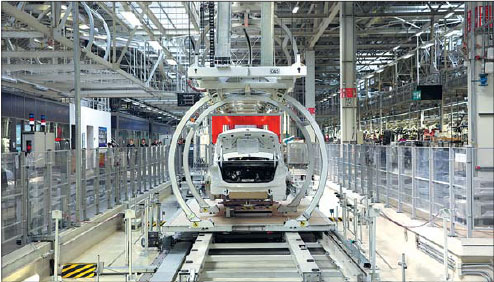 BMW's plant Tiexi in Shenyang, Liaoning province, is renowned for its high-end facilities, green and stylish design and services.Photos Provided To China Daily
(China Daily 04/18/2017 page5)
Today's Top News
Editor's picks
Most Viewed