Seeing into the future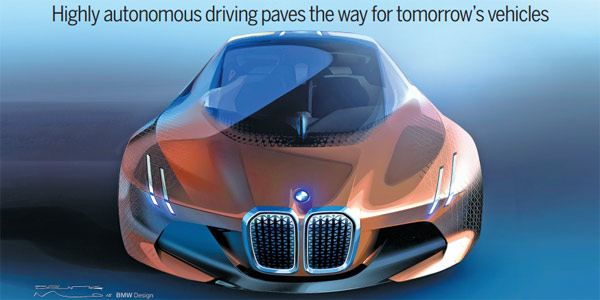 BMW's future concept series feature stylish design, high-end technology and autonomous driving. [Photo provided to China Daily]
The image of internet-based electric BMW models autonomously picking up customers using online mobility services may seem outlandish at this moment, but will become commonplace in the next 10 years.
It is thanks to BMW Group's innovation leadership in mobility and autonomous driving in recent years.
"BMW wants customers to experience premium mobility in both an individualized and emotional way," said Harald Kruger, chairman of the board of management of BMW AG.
"Our goal is sustainable mobility. With our services, we are available whenever and wherever the customer needs us."
The services are based on use of intelligent devices, including the BMW Mobility Mirror and a cloud platform that decides the best route through a virtual interface.
"BMW aims to be a mobility solutions provider for more than 100 million customers in 2025 and all areas of future mobility will be integrated as demonstrated in its centenary celebration last year in the Vision Next 100 series vehicles," he said.
The future concept series models for BMW, Rolls-Royce, Mini and BMW Motorrad show that autonomous driving, connectivity and electrified and sharing services are core elements. He said that BMW's significant steps towards autonomous driving will be boasted in the second half of this year with a fleet of about 40 autonomous BMW vehicles on the roads.
The user-oriented company found that Chinese customers are among the most open-minded and willing to embrace the cutting-edge autonomous driving technologies, while the country has a unique traffic infrastructure. To cope with the situation, BMW views research and development localization for autonomous driving technology as a crucial foundation to make automated vehicles feasible on the road in China. With a flurry of companies swooping in last year, the advanced driver assistance systems field reached the second level, allowing drivers to operate with "handsoff". BMW has achieved more than 14,000 kilometers of HAD demonstration on both enclosed and public roads in China.
Olaf Kastner, president and CEO of BMW Group Region China said the ability of active innovation is the key to realizing sustainability. BMW became the first premium auto brand in China to showcase its highly automated driving abilities on a local highway within a designated section in June 2016.
The demo car, developed from a BMW 3 Series GT, enables three core features for the driver: automatic lane keeping, automatic vehicle following and automatic lane change.
It sets an important boundary between the HAD technology of the future and the current advanced driving assistance systems.
These HAD technologies allow drivers to drive "eyes-off", offering enhanced freedom inside the car and boosting both safety and efficiency. In particular, with Automatic Lane Change, cars can choose how to react according to real traffic conditions on the road, ensuring a smooth and safe transition between lanes at all times.
The foundation of BMW Group's autonomous driving strategy will be the BMW iNext model to be introduced in 2021.
The BMW iNext will start to implement the highly automated driving in segregated traffic that is moving in the same direction, allowing the driver's eyes off, but still requiring him or her take over control again within a few seconds.
The next stage, fully automated driving, will also be partially available in the BMW iNext, setting the driver free from controlling the steering wheel for a greater but limited period of time, even in urban traffic. A driver can sleep during the journey, or have the "mind off".
Right now, the fancy technologies have already embarked the all-new BMW 5 Series just unveiled today at Shanghai International Automobile Industry Exhibition, and the latest 7 Series, but under covered by the Advanced Driver Assistance System.
BMW's long-term research on HAD development is now way ahead of the country's schedule as defined in the upcoming China intelligent and connected vehicles technology roadmap. The Ministry of Industry and Information Technology expects those with semi-autonomous functions, such as driving assistance and autonomous parking.
According to the ministry's roadmap, China will aim for 10 to 20 percent of vehicles to be highly autonomous by 2025, with 10 percent of cars to be fully autonomous by 2030.
Cooperation
Cooperation with Intel and Mobileye toward autonomous driving has brought the future closer to everyone, making BMW the first premium automobile company draw up a timetable to introduce a highly automated driving vehicle-BMW iNEXT in 2021.
The BMW Group will be responsible for driving control and dynamics, evaluation of overall functional safety, including setting up a high-performance simulation engine, overall component integration, production of prototypes and eventually scaling the platform via deployment partners.