Govt plans aim to regulate auto market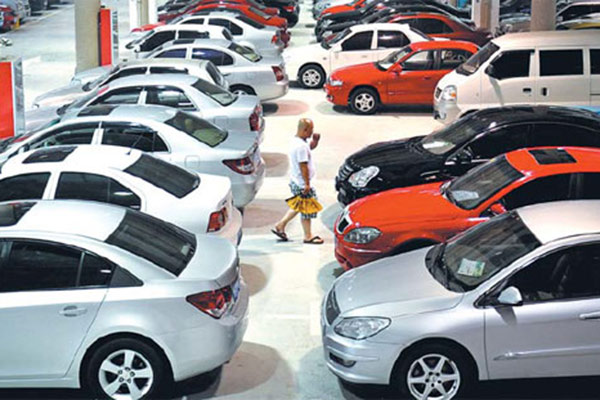 Used cars are displayed in the airport economic area of the Tianjin Pilot Free Trade Zone. [Yue Yuewei/For China Daily]
Measures aim at addressing barriers by dealerships and invigorate the slowing sale of used vehicles
The Chinese auto market is set to get help from the central government to embrace healthier and more customer-oriented growth after a deceleration in car sales at the beginning of this year, industry analysts said.
The Ministry of Commerce said help will be given in four areas: administering automobile sales, registering used cars sold across provincial and city borders, amending measures that govern the recycling of scrapped vehicles and promoting the so-called "parallel imports" pilot scheme, which was launched in Shanghai's free trade zone in February 2015 and allowed selected unauthorized dealers to sell imported cars in a bid to rein in high-end car prices.
"The measures for administering automobile sales aim to break the dealerships barriers that exist between brands and establish a system that allows for products to be more easily circulated in the market, which should revitalize it," Sun Jiwen, spokesman for the ministry, said on Thursday at a news conference in Beijing.
"The supply of cars to the market will be modified to better meet the diversified demands of customers and will also unleash the potential of the used-car market," he said.
Xu Haidong, assistant secretary-general of the China Association of Automotive Manufacturers, believes that the new measures will give more options to the dealers, and will benefit consumers in the end.
"The government expects to establish a healthy and efficient market, as the dealers can offer more than one brand to the customers," Xu said.
Under the new measures, dealerships no longer need to invest huge amounts of capital in a 4S showroom or pay hundreds of thousands of yuan for authorization to sell models. Without the immense preliminary expense, dealers are capable of switching among brands easily to meet market demands.
The current regulations usually bond a dealer to a certain brand. When the dealer turns to another brand, it has to once again invest in a showroom and authorization. The majority of the cost in the end will be paid by the customer.
"A range of business models are possible, including e-shops. Besides this, consumers have abundant options, including parallel imported cars. The Chinese auto market will embrace a range of different possibilities. It's a bullish signal," he added.
A total of 3.9 million passenger cars were sold in the first two months of this year, marking a rise of 6.3 percent year-on-year, a 4.9 percentage points lower than that in 2016, according to figures from the China Association of Automobile Manufacturers.
The association predicted annual growth of 5 percent for this year, after the country saw growth of 13.7 percent in 2016.
Used-car market
The new policy is also expected to invigorate the used-car market this year.
Zhu Kongyuan, secretary-general of the China Auto Dealers Chamber of Commerce, believes measures to facilitate used-car transactions will also help the sale of new cars and benefit the entire market.
"When a second-hand car can be more easily sold for a better price, the seller might be more willing, and able, to replace it with a new model," he said.
Xiao Zhengsan, secretary-general of the China Automobile Dealers Association, said: "We are very optimistic about the used-car market, as long as the new policies are fully implemented."
He predicted that used-car transactions would reach a new high of 12.5 million in 2017, marking annual growth of 20.3 percent on last year.
China's second-hand vehicle sales hit a record high of 10.39 million in 2016, posting 10.3 percent growth year-on-year.
Removing barriers
According to industrial data, the majority of used-car transactions were cross-regional, with the majority of cars being sold by owners in tier-one and tier-two cities to buyers in smaller cities.
Local authorities across China have also been working to lift barriers on cross-provincial vehicle sales to ensure a steady fl ow of used-cars into the market and to allow dealers to better adjust their stock in light of changing market demand. In March last year, the State Council released a guideline to lift limitations on the fl ow of used vehicles between provinces and cities.
Later last year, the Ministry of Commerce and Ministry of Environmental Protection released a notice titled "Strengthened Supervision on Used Vehicles Meeting Environmentally-Friendly Standards".
Luo Lei, deputy secretary general of the China Automobile Dealers Association, said that many provinces and cities set restrictions on used-car registrations that are too severe and have killed the fl ow of products in regional markets.
The country allows three regions to maintain restrictions to register only vehicles meeting National V emission standards, as they are the key areas to be protected from air pollutions.
The three regions are Jingjinji, covering Beijing and Tianjin municipalities and Hebei province; the Yangtze River Delta, covering Shanghai, and Jiangsu and Zhejiang provinces; and the Pearl River Delta consisting of nine cities including Guangzhou, Shenzhen and Zhuhai.