Geely set to bid for Malaysian carmaker Proton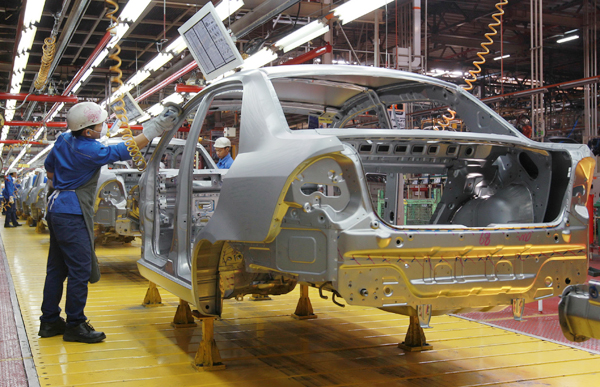 Workers assemble vehicles at a Proton factory in Shah Alam, Malaysia. [Photo / Agencies]
Chinese automaker Zhejiang Geely Holding Group Co is expected to bid as early as this week for a strategic partnership with struggling Malaysian carmaker Proton Holdings Bhd, two people familiar with the bidding process said.
As part of its pitch following discussions with Proton's owner Malaysian conglomerate DRB-Hicom Bhd, Hangzhou-based Geely, which owns Sweden's Volvo Car Group, is expected to offer Proton some of the latest vehicle technologies it has developed with Volvo's input.
DRB-Hicom said earlier this month it was waiting for prospective foreign carmakers to submit bids for a strategic partnership.
Proton, founded in 1983 by former Malaysian prime minister Mahathir Mohamad, received 1.5 billion ringgit ($338.2 million) in government aid a year ago on the condition that it implement a turnaround plan and seek a foreign partner to help its research and development.
Other potential bidders have included Peugeot maker PSA Group, Suzuki Motor Corp and French carmaker Renault SA.
Mahmood Razak, DRB-Hicom's head of strategic communications, said: "We have nothing new to say," noting a previous statement about it being a complex process. It has said it expects to announce a decision in the first half of this year.
"We are evaluating the bids received. No disclosures until we have selected an FSP (foreign strategic partner)," he added.
A Geely spokesman declined to comment.
It was not clear whether Geely's pitch-part of what the sources said was the final bidding round-includes a cash offer for a stake in Proton. The people with knowledge of the bidding said Geely is looking for at least a 51 percent stake.
By offering Proton some of its own technologies, Geely hopes to help Proton's sales in right-hand-drive markets, including Malaysia, the United Kingdom, India and Australia, the people said.
The technologies include those Geely has used to engineer midsize vehicles such as its GC9 sedan and Boyue sport utility vehicle.
Strong sales of the GC9 and the Boyue SUV helped Geely grow its China sales by 50 percent last year to 765,851 vehicles.
"To Chinese auto companies, it is a good choice to enter the Association of Southeast Asian Nations market via Malaysia, because it is the largest market in the ASEAN. But it is still too early to judge whether Geely could win the bid," said John Zeng, managing director of LMC Automotive Consulting Shanghai.
Reuters