Chinese companies pop stars at Detroit Auto Show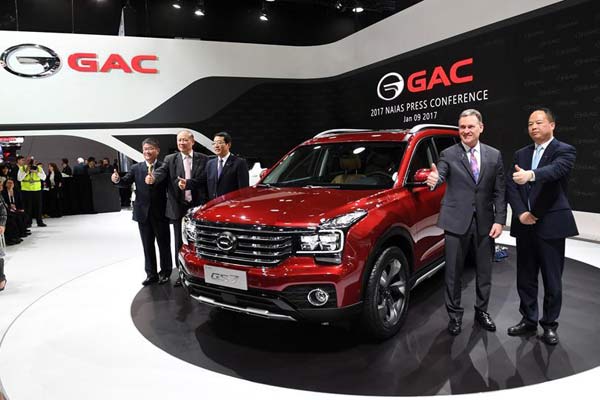 China's Guangzhou Automobile Group Motor (GAC Motor) makes debut of Trumpchi SUV GS7 during the 2017 North American International Auto Show (NAIAS) in Detroit, on Jan 9, 2017. [Photo/Xinhua]
DETROIT - Guangzhou Automobile Group (GAC) Monday became the first Chinese company to unveil a car on the main floor of the North American International Auto Show (NAIAS), showcasing two concept cars and one production car here.
GAC last visited NAIAS in 2015, when it unveiled the GS4 sport utility vehicle and the plug-in hybrid concept car WITSTAR. This year, GAC unveiled the GS7 which features a 2.0-liter four-cylinder turbo engine and a spacious interior within the crossover SUV market segment.
The Guangzhou-based GAC's presence at the Detroit Auto Show has pleased its US organizers.
"Having GAC here means so much to Detroit, so much to the show, so much to bringing the culture, not just the culture, but also the car and the technology and ingenuity," Rod Alberts, executive director of NAIAS told Xinhua.
"Being at the forefront of other companies, I expect many others to follow," Alberts said.
"We've actually had many companies come up to me today that are visiting, that are considering being a part of the show in 2018. But it took GAC to step out and be that leader, and be a part," he said.
As the CEO of the first Chinese company to unveil a vehicle on the main floor at Detroit Auto Show, Feng Xingya is aware of the role he plays as he represents China to US automakers.
"I think every enterprise has its own culture, and every enterprise culture has its own characters. As soon as an enterprise's product enters a market, the enterprise's culture goes with it," he said.
Although GAC turned heads, it was ultimately Hangzhou's Geely-owned Volvo, a regular attendee at NAIAS, that showed concrete steps toward achieving their goal to have fully autonomous cars launched by 2021.
At this year's show, the company unveiled its plan to give several families the opportunity to operate a self-driving car as part of their Drive Me project, ahead of the 2021 deadline. Volvo chose a family of four, the Hains, from Gothenburg, Sweden, to operate the self-driving car.
During the press conference at NAIAS, the family members said safety remains their top concern.
Hakan Samuelsson, CEO of Volvo Cars, has spent his career building Volvo's reputation for safety. He believes that the company's credibility when it comes to safety gives him an edge.
"I think what is unique with Volvo is of course at the end when it will be a lot about credibility, because sitting in a car driving, full speed, relying on the machine, I think you'll look twice." Samuelsson said. "Who wants to develop this car? Volvo has a good heritage, good credibility."
Next year's Detroit Auto Show will likely have more Chinese automakers, and "I think I'll see three more (Chinese) companies come in (during 2018)," Alberts said.
He described the show as a country club, but cautioned potential Chinese exhibitors to come early.
"We have limited space so these companies need to be knocking on the door very soon to be a part of the show, but we want as many in as we can."