International focus offers new opportunities for GAC Motor
GAC Motor, a subsidiary of Guangzhou Automobile Group, made a big commitment to expand its Bahrain market share last week, organizing the largest new car launch ceremony in the country's history to introduce its flagship GS4 model.
The event not only demonstrated Bahrain's importance in GAC Motor's overseas business strategy, but also provided a solid foundation for exploring the Middle East market further, the company said.
"The GS4 launch gained widespread attention from the Bahraini public and local customers spoke very highly of the flagship SUV and GAC Motor. As a local dealer, I have great confidence in GS4's future performance in Bahrain," said Adel Hubail, CEO of Bahrain Commercial Facilities.
Debuting in 2015 at the North American International Auto Show, GAC Motor created the GS4 with its best technologies and global resources.

It features a world-leading engine, a large interior, elegant exterior design and low fuel consumption.
"Integrating restructured Chinese elements and European aesthetics, the GS4 tells a story of delicacy through every detail and depicts an outline of dynamic vehicle movement," said Yu Jun, general manager of GAC Motor.
In China, more than 420,000 GS4 cars have been sold in 19 months since its official market release. It ranked second in terms of sales among sport utility vehicles.
Bahrain is an important financial and trading center in the Arabian Gulf.
As a country along the routes of the China-led Belt and Road Initiative, it offers an open and free business environment for multinational companies.
Liu Gengsheng, counselor at the Chinese Embassy in Bahrain, said at the ceremony that Bahrain and other Middle Eastern countries are seeking new economic growth drivers, and so high-quality products which meet international standards will enjoy very broad market prospects.
First tapping into the Bahraini market in October 2015, GAC Motor now boasts one main showroom and 13 secondary distributors across the country.
It has also launched a wide variety of car models this year, such as the GA3S, GS5 Super and GA6.
With qualified products and services, the company has achieved strong results in Bahrain.
It now accounts for 1 percent of the local auto market. The company expects the figure to rise to 1.5 percent next year.
In 2017, the company plans to introduce several premium car models in Bahrain, including the GS8 and GA8. It will also reinforce its future investment with local partners, to further increase car sales.
The African market
In addition to eyeing the Middle East market, GAC Motor is also speeding up its development in Africa. On Dec 12, three days after the GS4 launched in Bahrain, the company released the same signature SUV in Lagos, Nigeria
The event attracted a large group of government officials, distributors, industry insiders, celebrities and media. Distinguished guests included Chinese Consul General to Lagos State Chao Xiaoliang, Lagos State Governor Akinwunmi Ambode, Nobel laureate for literature Wole Soyinka, the Oba of Lagos Rilwan Akiolu, representatives of Aliko Dangote's company, economic and commercial counselor of Chinese Consulate General in Lagos Liu Junsheng.
Nigeria is an important political and economic power in Africa and plays a decisive role in the Economic Community of West African States.
The country has maintained over 60 years of friendly relations with China and is one of China's vital economic partners.
"As strategic partners, we have relished the sweetness of the fruits from our mutually beneficial cooperation for many years," Chao said at the launch event.
"Under the backdrop of the sluggish world economy, China is restructuring its industries while Nigeria is diversifying its economy. The highly complementary economies and development strategies of our two countries will ensure that our cooperation will achieve win-win results," he added.
Chao encouraged more qualified Chinese enterprises like GAC Motor to invest in Nigeria. "We will provide strong support to help GAC Motor achieve better development in the African market and also hope the company will continue to bring high-quality products to Nigeria and Africa."
GAC Motor's General Manager Yu said the GS4 launch in Nigeria reinforced the company's brand in both the Nigerian and African markets.
"We are bringing premium products and services that will exceed the expectations of Nigeria and customers in Africa. Our best-selling GS4 will bring safer and more comfortable journeys and an all-new driving experience," Yu said.
Instead of importing vehicles directly from China, the GS4 sold in Africa will be locally assembled, as GAC Motor's semi-knocked-down project was put into operation in November.
It was built to optimize the company's supply chain, shorten production time and reduce cost, according to the company.
The first time for Chinese vehicles to have parts assembled in Nigeria, the project greatly promotes China-Africa industrial cooperation and sets a precedent for Chinese vehicles in the Nigerian market, Yu said.
Kanayo Iwuchukwu, assistant director of the Manufacturers Association of Nigeria, said the project not only brings advanced technology to the Nigerian auto market, but also increases local job opportunities.
Entering the Nigerian market in 2014, GAC Motor was welcomed by both ordinary customers and government agencies.
It won bulk purchase orders from the Lagos government and police stations in 2015 after besting many global competitors.
Due to its rising reputation, the company was chosen as the sole sponsor of the Africa Magic Viewers' Choice Awards, also known as "the Oscars of Africa", in March, with its GS5 model wowing many participants and audiences.
Highlights
As one of leading automakers in China, GAC Motor Motor develops and manufactures premium vehicles, engines, components and car accessories. It has constructed a global sales and service network that covers 14 countries and is continuing to strengthen its international strategy.
The company has realized an annual compound growth rate of 80 percent over the past five years. This year, GAC Motor sold 335,000 cars from January to November, an increase of 111 percent from the same period last year.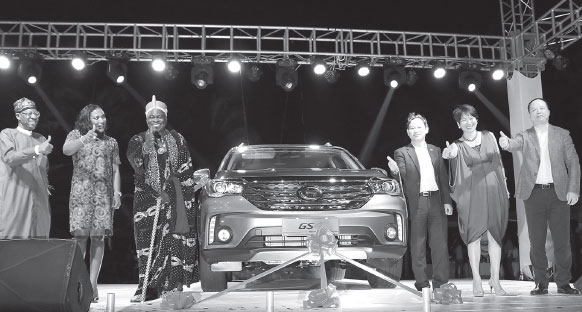 Senior executives from GAC Motor and government oficials from Nigeria attend the release ceremony of the GS4 model in Lagos, Nigeria, on Monday. Photos Provided To China Daily
(China Daily 12/16/2016 page16)
Today's Top News
Editor's picks
Most Viewed