VW, BMW, Ford to set up charging network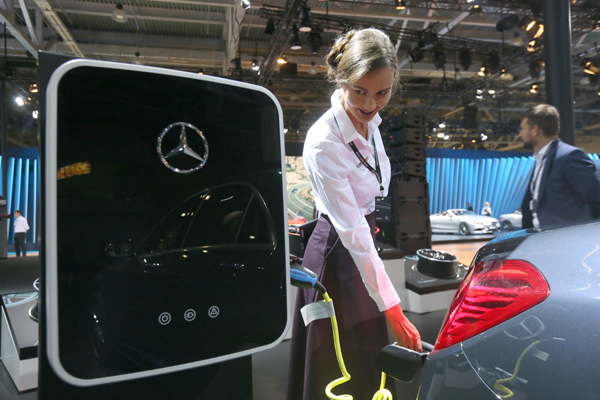 An employee charges a Mercedes-Benz hybrid car at an international automobile salon in Moscow. [Photo / Agencies]
Volkswagen AG, BMW AG and Ford Motor Co plan to set up a European network for the speedy charging of electric-car batteries as the auto manufacturers seek to overcome customer resistance to the vehicles.
The partnership, which will also include Mercedes-Benz parent Daimler AG, aims to establish "thousands" of stations along European highways by 2020, the automakers said on Tuesday in a statement.
With an initial target of about 400 sites, the group plans to start the rollout in 2017, deploying technology that will be "significantly faster" than current setups.
"A reliable, ultra-fast charging infrastructure is important for mass consumer adoption and has the potential to transform the possibilities for electric driving," Ford Chief Executive Officer Mark Fields said.
The rare broad-based cooperation shows the strains on carmakers as they invest billions of dollars to develop battery-powered vehicles to comply with tighter environmental regulations.
Buyers have so far shown little interest in the models because of limited driving range, the time needed for recharging and the high price of vehicles.
BMW sold fewer than 24,100 of its i3 electric city car last year, out of the company's total 2.2 million deliveries, while the Renault-Nissan automaking alliance has only handed over 350,000 electric vehicles to customers since 2010, versus a target of 1.5 million by the end of 2016.
The German government agreed earlier this year to a 1 billion euro ($1.06 billion) financing package to encourage electric-car purchases, with about two-thirds of the figure slated for developing roadside charging stations.