New plates for electric vehicles to be put into trial use in China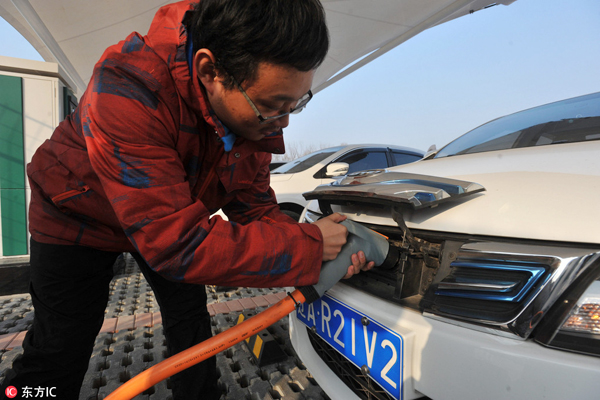 A man charges an electric car at a charging station in Shenyang, Northeast China's Liaoning province, Nov 17, 2016. [Photo/IC]
Five cities in Eastern China will begin issuing specialized license plates for electric vehicles next month on a trial basis, to promote the use of green energy in the country.
The cities including Shanghai and Nanjing will be the first cities to put the new policy into effect starting from December 1.
The new plate design for electric vehicles will see changes in color and in the arrangements of numbers and letters, differentiating them from the traditional blue and white plate design.
Auto mobile expert Zhang Zhiyong believes that the move will greatly promote the use of electric vehicles in China.
"We have such a large number of electric vehicle owners, but this is not obvious to the general consumer. That is because green powered cars and traditional cars are all mixed together. The trial run allows them to be more recognizable and when people see green powered cars on the road, they will be more likely to accept them and this will build consumer confidence and trust in these kinds of vehicles and the new energy industry. This will be very beneficial for the future development of electric vehicles."
The new plate is green and features a graphic electric plug symbol. It was finalized after soliciting public opinion and conducting online voting.
During the trial run period, newly bought electric vehicles registered in the five cities will be issued with new the new design license plates.
For previously registered cars, owners will have the option to apply for renewal or keep their old plates.
Electric vehicles have seen rapid development in China over the years. As of October, ownership of battery-powered electric vehicles in the country stands at 555,000 in total.