Market wants answers to riddle of Audi partnerships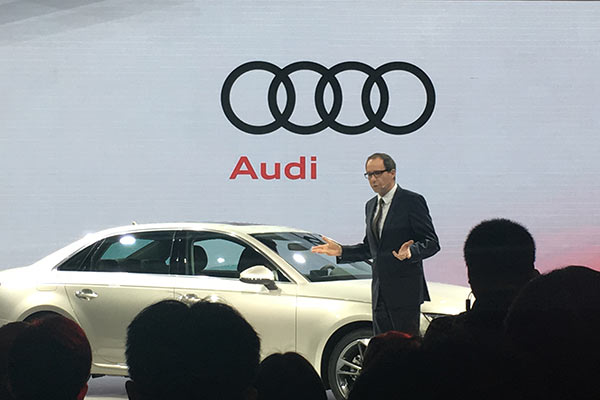 Joachim Wedler, Audi China head, at a press conference of Auto Guangzhou 2016 on Nov 17, 2016. Li Fusheng / China Daily
Of all the interviews Joachim Wedler has done since he became Audi China head late last year, the most repetitive and tormenting was probably the one he conducted during Auto Guangzhou 2016.
Fewer than 10 reporters were allowed to meet him on Nov 17 and all of them had the same topic in their notebooks. They wanted details about Audi's partnership with SAIC Motor, which had been made public three days earlier.
Shanghai-listed SAIC Motor said in a letter to investors on Nov 14 that it had signed a memorandum of understanding with Audi's parent company, Volkswagen AG, to produce and sell Audi models and explore the possibility of selling smart mobility services.
Confronted with a barrage of questions about the partnership, Wedler was as elusive as possible, merely saying "the evolution is continuing and nothing is fixed" and that Volkswagen AG's success in China showed it has good relations with both SAIC and FAW, the first partner to have localized Audi models in China.
Although beating around the bush about Audi-SAIC cooperation, Wedler instead reiterated that Audi had worked out a 10-year development plan with FAW, including introducing five e-tron models in five years with their joint venture, FAW-Volkswagen, in which Audi has a 10 percent stake.
However, the remarks kindled more curiosity about how Audi will decide what joint venture will produce which models, because localization and sales of new-energy vehicles were also specified in the memorandum with SAIC Motor.
Wedler failed to give direct answers, but repeated that "Volkswagen has long-term experience in how to deal with 'one brand, two parties' and has made quite impressive and successful business" from such structures.
That answer gave little satisfaction to reporters. Even less satisfied were FAW Volkswagen's Audi dealers, who were not informed of the deal with SAIC. They presented a letter to the automaker on Nov 15, demanding direct responses from Audi within 10 days about how to protect their interests.
The letter said some dealers were already facing high inventories and other financial pressures, and "the interests of Audi dealers will be further damaged if you set up a new sales company". There are around 500 authorized Audi dealers across the country.
Michael-Julius Renz, general manager of FAW-Volkswagen's Audi sales division, who appeared beside Wedler at the press conference, said he had high respect for the dealers' direct questions and that it was "fine to take them and look for solutions".
There were reports that a senior executive from Audi AG will meet with dealers on Monday.
When asked how he feels about Audi-SAIC cooperation, Renz gave a confident smile and said: "Whoever is the competitor, we are strong enough to compete."
Renz is well qualified to say this. Audi has been the best performer in China's premium car market, and the absolute majority of cars it sold were localized models.
Despite Renz's confidence, analysts believe rivalry between Audi's two partnerships is inevitable and is likely to make China's already fierce premium car market even more complicated.
They believe head-on competition between the two joint ventures will result in them cutting car prices, which may get other carmakers involved in price wars and their rankings will reshuffle.
Audi sold 440,233 cars in the Chinese mainland and in Hong Kong in the first nine months of this year, representing 6.2 percent growth year-on-year.
In the same period, BMW's sales rose 10.6 percent to 379,000 units, and Mercedes-Benz sold 344,791 units, a 29.5 percent surge year-on-year.
FAW has not yet made any public comment on the Audi-SAIC partnership, but Volkswagen AG's China head, Jochem Heizmann, reluctantly told reporters during the Guangzhou auto show that FAW was informed of the deal before it was signed.
The answer came after a reporter from the China Economic Net posed the question to Heizmann. The reporter said the Volkswagen executive hesitated for several seconds and took several gulps of cold water before giving his answer.