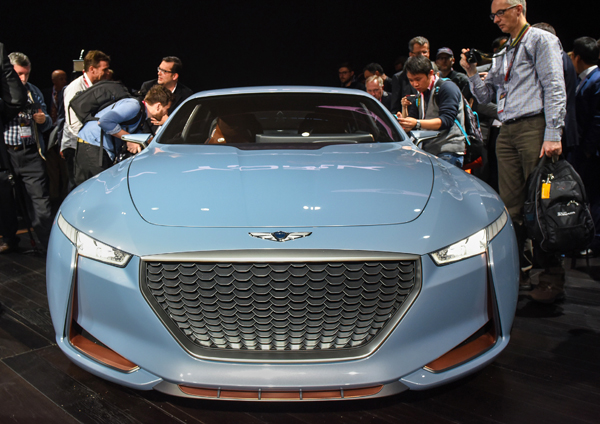 Attendees view the Hyundai Motor Co Genesis concept luxury vehicle during the 2016 New York International Auto Show in New York, on March 23. [Photo/Agencies]
South Korea's Hyundai Motor will launch its stand alone premium Genesis auto brand in China within two to three years, betting on a luxury lane to profit as competition bites at the lower end of the world's biggest auto market.
Genesis brand chief Manfred Fitzgerald said in a recent interview the company is considering building Genesis models in China for sure. But there are also other examples of (automakers) who live pretty well off of importing cars," he said, citing Toyota Motor Corp's Lexus.
The plans come as Hyundai tries to reverse out of 10 straight quarters of falling profits, hit in part by sales weakness in China.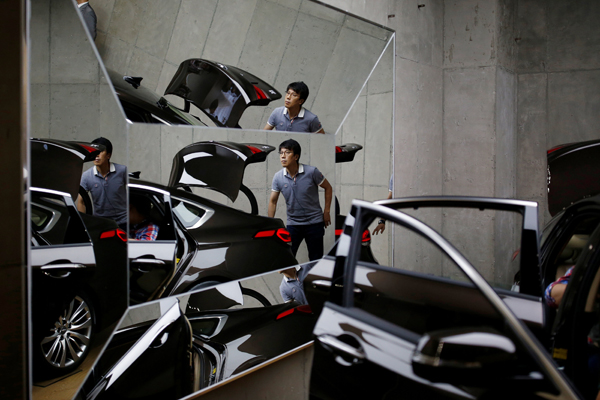 A visitor looks at a Genesis G80 at the Genesis Studio in Hanam, South Korea, September 8, 2016. Picture taken on September 8, 2016. [Photo / Agencies]
Rolling out Genesis in key markets like China marks a shift for a company better known for making value-for-money cars and lacking the brand cachet and tradition of Germany's BMW, Mercedes-Benz and Audi. That trio dominates the luxury market globally-and in China.
"The luxury customer in China is very brand-conscious," said US national Fitzgerald, 53. The former executive with Audi's Lamborghini brand was speaking at the first, and so far only, standalone Genesis store, in a glitzy mall in Hanam on the outskirts of Seoul featuring cars like G80 sedans that can fetch up to 74 million won ($67,100).
"If you don't get your brand right, you can have the best product in the world, it won't work," said Fitzgerald. "In two, three years' time we will be entering China," he said, declining to give sales targets for a global rollout that will follow launches in South Korea late last year and in the United States last month.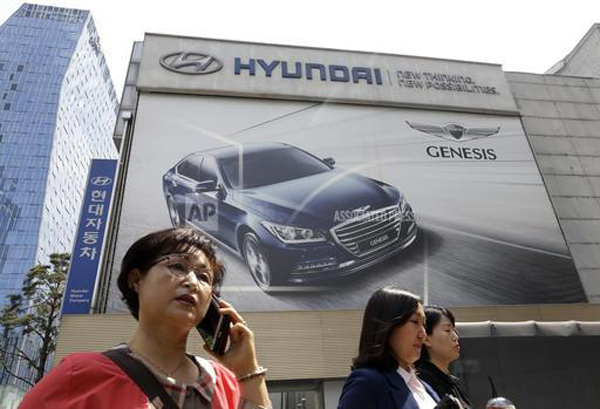 People walk under a billboard advertising Hyundai Motor Co's Genesis in Seoul, South Korea, April 26, 2016. [Photo / Agencies]
In China, imported cars carry a duty of more than 20 percent, putting pressure on automakers to produce locally.
Genesis will open more standalone outlets, said Fitzgerald, and is exploring unspecified locations for its first US store. The Genesis lineup currently features two models, a range that the company plans to expand to six by 2020, including two sports utility vehicles.
Consultants like Eric Noble, president of California-based consultancy CarLab, say getting the sales channel right for premium cars is as important as the product itself.
For now, over 300 of Hyundai's more than 800 US dealerships will also be selling the Genesis brand, posing an added challenge for differentiating it from Hyundai. By comparison, Toyota's Lexus is sold through separate dealerships.
"From a product standpoint, the prospects of the (Genesis) brand are encouraging," said Noble. "But from a distribution standpoint, at least here in North America, it is much more problematic."
Reuters