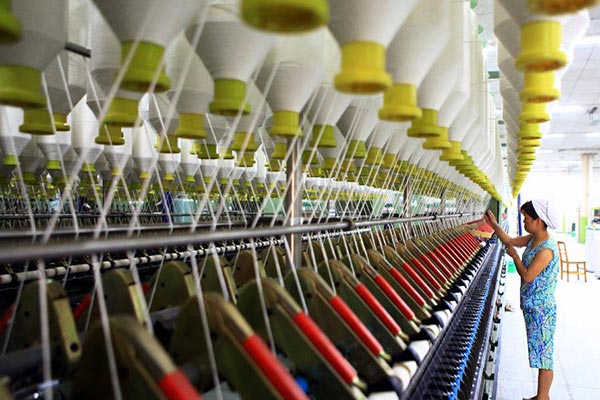 A worker operates a cotton spinning machine at a textile mill in Jiujiang, East China's Jiangxi province.[Photo/Xinhua]
From increased business confidence to industrial growth, the recently released September private sector indicators showed new signs that China's economy is getting stronger, the Bloomberg reported.
Most indicators showed improvement, with industrial activities indicator climbing to a two-year high, suggesting that the recovery in August has continued into September. Stable credit boosted property sales and offset the sluggish exports and private investment.
Here's what the indicators showed:
Small and medium enterprise confidence
Standard Chartered Plc's small and medium enterprise confidence index rose to 56 from 54.9 in August. Shen Lan, a Beijing-based China economist, wrote in a report that although investment appetite remains muted, sales and production has recovered from weather-related disruptions. "Expectations related with financing, investment and employment remained sluggish, indicating small and medium enterprises' confidence has not fully recovered."
Satellite view
The China satellite manufacturing index rose to 50.2 in the first weeks of September, according to San Francisco-based SpaceKnow Inc, which analyzes China's thousands of industrial facilities via commercial satellite imagery. It's the first time that the reading was higher than 50 since November 2014. Like the official manufacturing purchasing managers index, readings above 50 indicate expansion.
Economists polled by Bloomberg forecast China's official PMI will be flat at 50.4 in September, the highest in almost two years. The official report is due for release on Oct 1.
Optimistic executives
Business leaders are more optimistic. Market News International China business sentiment index jumped to a 13-month high of 55.8 from a revised 54.1 in August. The indicator is based on a survey of executives of listed companies in Shanghai and Shenzhen stock exchanges.
"China's economy will likely end the third quarter with a strong tone, with growth in both manufacturing and service industries," MNI Indicators' senior economist Andy Wu said in a report. "Although the outlook remains challenging, our forward-looking activity index showed that the momentum is likely to continue into the fourth quarter supported by continued easy monetary policy."
Sales managers
An index of London-based research firm World Economics Ltd was flat at 51.3 in September. The service industry continued to be the growth engine, widening a lead over manufacturing. CEO Ed Jones said in a statement that business confidence remains low compared with previous years, and sales growth reflected a continuous but moderate pace.
Steel outlook
S&P Global Platts China steel sentiment index climbed to 74.43 in September, the second-highest reading of this year, compared with 62.68 in August. This index is based on a survey of 70-85 Chinese market participants (including traders and steel factories).
However, the outlook of the steel industry remain uncertain as rocketing home prices is likely to prompt more cities to roll out limited buying policies.
"The market will definitely react to some tightened financing and liquidity, especially in the second-tier cities, to avoid market overheating," said Paul Bartholomew, S&P Global Platts' senior editor for steel and raw material. "Many investors predicted this would weight on demands."
Agencies contributed to this story.