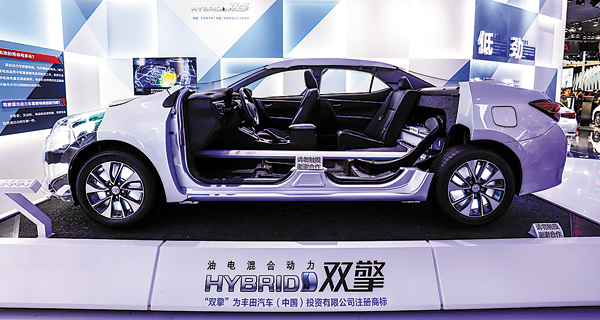 GAC Toyota displays the powertrain system for petrol-electric hybrid cars Camry and Levin at the Beijing auto show in April. Zhang Haiyan / For China Daily
Toyota Motor Co's joint venture with Guangzhou Automobile Corp aims to boost long-term sales of petrol-electric hybrid cars by offering a wide range of models.
Huang Yongqiang, vice-president of the joint venture, told China Daily that the company expects petrol-electric hybrid cars to account for up to 40 percent of its annual sales by 2020, up from less than 5 percent last year.
"We plan to introduce at least 10 new petrol-electric hybrid models in the years to 2020 covering all segments," Huang said.
This strategy ignores the fact that some of these models would not qualify for current government subsidies for new energy vehicles.
The joint venture, or GAC Toyota, now has two petrol-electric hybrid models - the mid-sized Camry and the compact Levin. In the first half of this year, combined sales of the two vehicles amounted to 13,757 units.
The company plans to boost its overall sales to 1 million cars annually by 2020 from 400,000 units last year, Huang said.
A petrol-electric hybrid car twins a conventional combustion engine with an electric motor. The combustion engine can power the car and produce electricity which can be stored in the electric motor simultaneously.
As a result, petrol-electric hybrids are much more fuel-efficient than conventional cars. For example, the Levin hybrid consumes only 4.2 liters of fuel per 100 kilometers.
In addition, petrol-electric hybrid cars do not need to be charged like pure electric-powered and plug-in hybrid vehicles.
Industry analysts say the government should take measures to encourage customers to buy petrol-electric hybrid cars as they are more practical than pure electric and plug-in hybrid vehicles in terms of improving mileage and fuel efficiency in the medium term.
However, petrol-electric hybrids are unpopular in China because customers will not receive government subsidies if they buy such cars. Only pure electric and plug-in hybrid vehicles are subsidized.
In addition, petrol-electric hybrid cars do not have priority over conventional combustion vehicles in dozens of big cities, such as Beijing and Guangzhou, which use the lucky-draw policy for providing car plates.
Huang said the company remains optimistic about the market for petrol-electric hybrid cars in the medium and long terms, because it believes customers will gradually come to recognize their advantages over conventional combustion cars as well as pure electric and plug-in hybrid vehicles.
He said the company will speed up efforts to promote petrol-electric hybrids through a slew of "circles ranging from public servants, environmental protection, fashion and technology".
The price of the 1.8-liter petrol-electric Levin is almost the same as those for comparable conventional models, Huang said.
Besides the two petrol-electric models, GAC Toyota also offers conventional versions of the Camry and Levin as well as the Highlander SUV and the Yaris subcompact.
Toyota's other tie-up in China with FAW Group Corp also makes two petrol-electric hybrid models, the Corolla and Prius. The joint venture plans to introduce several new petrol-electric cars to increase the ratio of such vehicles across all its sales to 20-30 percent in the future, the company said last year.