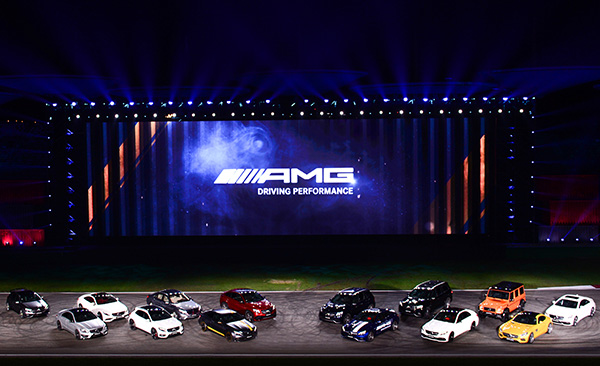 The full lineup of Mercedes-AMG is presented at the brand's Driving Performance Competition 2016 in Shanghai on Thursday.[Photo provided to China Daily]
Mercedes-AMG is blazing ahead in China at a pace that is very much on a par with the speed of growth in the country's automotive industry.
A sub-brand of Mercedes, the brand has accelerated rapidly in the country, with its China sales contributing greatly to its impressive global sales growth last year.
"Today, the China market is maturing, with diversified consumer needs which will further unleash the AMG brand's potential here," said Nicholas Speeks, president and CEO of Beijing Mercedes-Benz Sales Service Co Ltd.
The immensely popular Mercedes-AMG Driving Performance Competition 2016, held at the Shanghai International Circuit on Thursday, showed the enormous potential of the brand in China.
The event both sparked participants' passion for driving and also marked the official launch of the all-new Mercedes-AMG C 63 Coupe, priced at 1,028,000 yuan ($154,714), and its variant C63 S Coupe at 1,278,000 yuan.
Also unveiled at the event was the Mercedes-AMG C 63 Coupe Limited Special Edition, a tribute to AMG's brilliant record on the race track.
This record has continued into the current Formula One season, with the Mercedes-AMG Petronas team dominating proceedings so far to lead the constructor standings. Meanwhile, the latest Nurburgring 24-Hour Race has seen Mercedes-AMG sweep the top four spots.
The legendary brand has always been associated with champions, and this tradition continued at the event, where two-time F1 World Champion Mika Hakkinen and inaugural FIA GT World Champion Maro Engel were on hand to provide professional guidance, giving enthusiasts an unforgettable two-day racetrack experience.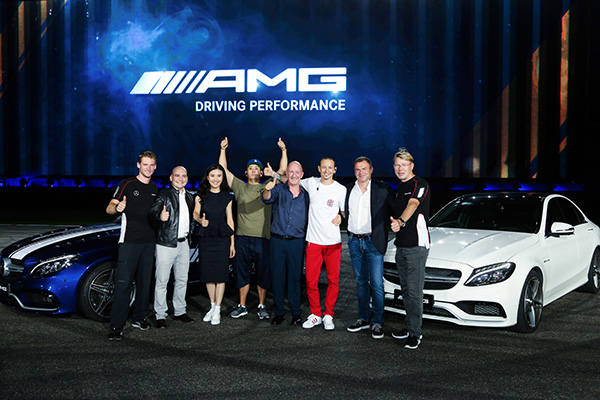 Executives from Mercedes-Benz and Mercedes-AMG, champion drivers, and the band Linkin Park celebrate the brand's milestone of 49 years.[Photo provided to China Daily]
"Today, our product lines here in China already cover all market segments ranging from the compact segment to the luxury sports car market," said Tobias Moers, chairman of the Management Board of Mercedes-AMG.
In addition to the C 63 Coupe, several other Mercedes-AMG models were also present, led by the AMG CLA 45 4 MATIC, AMG GLE 63 SUV, AMG G 63 and AMG GT.
"We will continue to profile the AMG brand with the aim of being even better at fulfilling the desires of people who love performance," Moers, added.
Continuing last year's momentum, AMG witnessed steady sales in the first half of this year, with an increasingly diverse portfolio of products that reflect the growing complexity and quality of China's automotive market.
"Our success is attributable not only to having the widest product range of any high-performance car brand and excellent products, which blend racetrack performance with daily usability, but also to our targeted customer experiences, which better meet the needs and requirements of our customers," said Mao Jingbo, executive vice-president for smart and AMG Sales Operations, BMBS.
Setting new standards
The shining star of the event, the Mercedes-AMG C 63 Coupe, is the perfect solution for people who are always on the go and demand nothing less than perfection.
"The Mercedes-AMG C 63 Coupe perfectly fuses racetrack performance with daily mobility, features fastback styling which leads to an even more striking coupe exterior design, and has exhilarating power to further satisfy the needs of high-performance car enthusiasts," said Mao.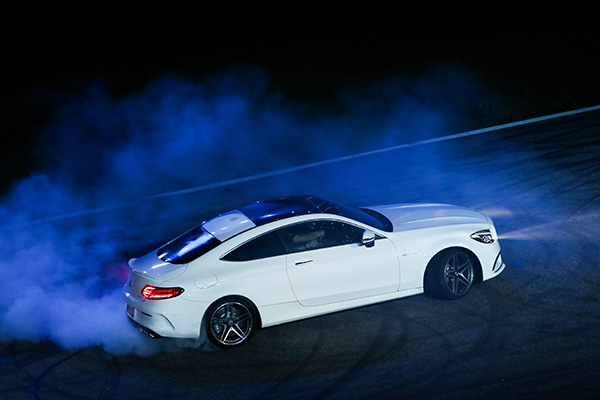 The all-new Mercedes-AMG C 63 Coupe is officially launched at the event.[Photo provided to China Daily]

A breathtaking 4.0-litre V8 biturbo engine, in combination with the AMG Speedshift MCT 7-speed sport transmission, allows the C 63 S Coupe model to accelerate effortlessly from 0-100 km/h in only 3.9 seconds.
This amazing performance is also thanks to the vehicle's powertrain design that features two turbochargers in between the engine's cylinder banks-a "hot inside V"-which makes it more compact and responsive.
The Mercedes-AMG C 63 S Coupe comes with a feather-light, heat resistant AMG ceramic composite brake system as standard, for higher friction performance. The model sports a classic two-door design, with increased front and rear track widths and a streamlined fastback styling that makes the exterior look even more like a sports car. The front row seat is emblazoned with an iconic AMG badge, representing the brand's quality and proud motor sports heritage.
An integrated set of safety technologies, such as Distronic Plus, helps the driver maintain a safe distance from the vehicle in front of him or her, and the Lane Assist Package, which provides blind spot-free vision and acoustic warnings, ensures a safe onroad experience.
Since its founding almost half a century ago, Mercedes-AMG has relentlessly innovated in pursuit of pure driving performance and excellence, and has become legendary on the racetrack. And now it has set new benchmarks once again for high-performance cars and racing technologies in the Chinese auto market.
"Mercedes-AMG remains dedicated to providing our customers with the best products, best services and best customer experience in order to match seamlessly with the highly personalized needs and requirements of high-performance car enthusiasts," said Speeks.