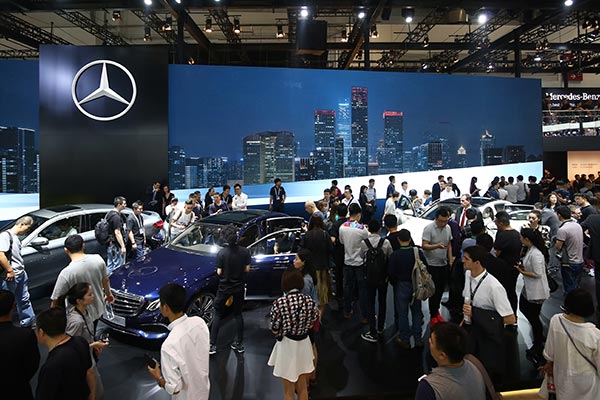 Mercedes-Benz, along with its sub-brands Mercedes-Maybach, Mercedes-AMG and smart, take to the stage with 39 heavyweight models at Auto China 2016 in Beijing.[Photo provided to China Daily]
At the Mercedes-Benz news conference for Auto China 2016, Dieter Zetsche, chairman of the board of management of Daimler AG and head of Mercedes-Benz Cars, gave his views on the prospects of the Chinese market and the future opportunities for the company.
Zetsche said he remains positive about the overall development of the Chinese economy, despite the slowdown seen last year.
"In the medium- and long-term, the Chinese economy will continue to grow at the new normal rate," he said. "Car sales will continue to grow, probable not in two digit steps, but in significant one digit steps."
Hubertus Troska, member of the board of management of Daimler AG responsible for China, who joined Zetsche at the news conference agreed, saying that 8 percent growth in the biggest car market in the world is an incredible number.
He said some of the credit for that goes to successful government policies to transform the economy, and the automotive sector in particular.
"Government policies are there to build sustainable growth. China is doing the right things to go from a level of super-growth to a more sustainable development model," Troska said.
"We will continue to see cities growing in China, and as the moderately prosperous society advances, people will have access to more money and will want to buy a premium car," he added. "If we listen to our customers, we will continue to improve our position in China."
Mercedes-Benz had a strong first quarter here, selling almost 105,000 vehicles for 39 percent year-on-year growth. Still, the company refuses to be overconfident, and instead maintains reasonable optimism.
"While we don't expect the year to continue at the 39 percent growth seen in the first quarter, it's a good start and a good indication for the year," said Zetsche.
If global performance is any indication, their confidence is well-founded. In the first quarter, Mercedes-Benz outsold rival BMW.
"We want to continue our profitable growth. We have products, we have marketing plans, and of course we see economies developing in different markets," Zetsche noted.
However, his outlook extends beyond just sales figures.
"We want to base our growth on the demand of our customers. We want to see the natural demand of the customers take us to the No 1 spot, like we've won an election," he said. "If it happens this year it's fine, if it doesn't, it's not a problem."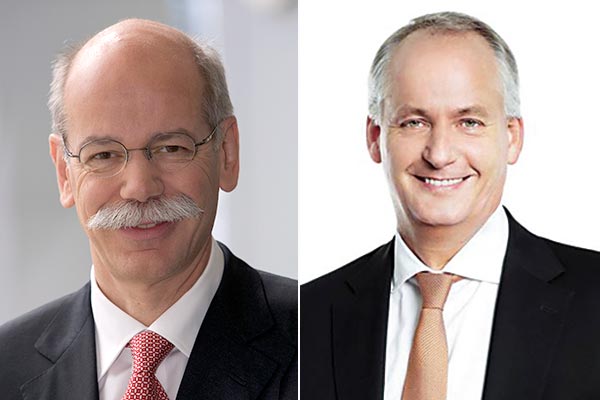 Dieter Zetsche (left), chairman of the board of management of Daimler AG and head of Mercedes-Benz Cars and Hubertus Troska, member of the board of management of Daimler AG responsible for China.[Photos provided to China Daily]
A large part of this success story is of course China, which became the Stuttgart-based automaker's largest market last year. According to Troska, China made a strong contribution to narrowing this gap with the company's competitors.
"Our focus in China will not be on short-term gains," he said. "We're looking at the long-term positioning of Mercedes-Benz in China. I think it worked out very nicely with the E-Class."
The All New Mercedes-Benz E-Class L made its world premiere the evening prior to Auto China 2016.
Billed as "the most intelligent executive sedan in the world", the long-wheelbase version of the E-Class was exclusively designed for the Chinese market, based on the German brand's growing understanding of its customer base here.
"Today, we believe we have a better understanding of the Chinese market and Chinese customers," explained Zetsche. "Our growing success in this country is related to this better understanding, which is reflected in the All New E-Class L, and makes us feel more at home in this country."
Given that the mid-size segment makes up approximately 20 percent of the premium market in China, the locally produced All New E-Class L is an important model for the brand in what Zetsche calls "our most significant segment."
Still, it is only one example of the way the automaker is taking root in China.
A stronger local presence has been key to this, including the choice to appoint their first board member dedicated to a geographic region, based in Beijing and responsible for China. "We listen to China. You can't do that from Stuttgart," he explained.
One insight gained from such an approach is a better understanding of their customer base, and the rapid changes that Chinese society has undergone over the last few decades.
This has resulted in a number of new customer service initiatives, including the recently-opened "Mercedes me Sanlitun". "Customers are much younger in China, and adapt to new business models much faster," Troska explained. "We need to be innovative, and we need to be younger in the way we market out products. That's why we have 'Mercedes me', to get closer to our Chinese customers."
With another strong product offensive slated for this year, the company has no plans to slow down its efforts to delight its customers here. After all, they have a sense of belonging here. "China is our second home," Zetsche stressed.
"I am very confident that the All New Long-Wheelbase E-Class will contribute strongly to future growth of Mercedes-Benz in China," Troska said.