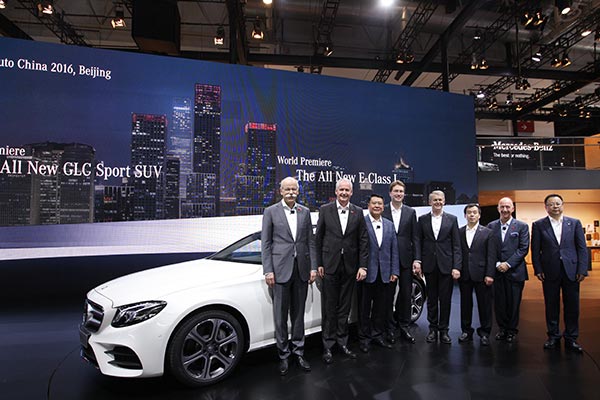 Executives from Daimler AG, BAIC, BMBS and BBAC jointly kick off the Mercedes-Benz' media day at Auto China 2016 in Beijing on Monday. Photo Provided to China Daily

Mercedes-Benz showcases its models designed for its second home
German automaker, Mercedes-Benz, along with subbrands Mercedes-Maybach, Mercedes-AMG and smart, took to the stage with 39 heavyweight models at the Auto China 2016 media day on Monday, reflecting the company's confidence in and unwavering commitment to the Chinese market.
A number of Daimler Board Members and key executives from Mercedes-Benz, including Dieter Zetsche, chairman of the board of management of Daimler AG and head of Mercedes-Benz Cars, attended to showcase the brand's new models and discuss recent developments with attendees.
"On a global scale, 2015 was the best year in our 130-year history," Zetsche said. "And we have had a promising start to 2016."
He said there are two reasons he is confident China will continue to drive growth in the future.
One is the huge potential purchasing power of Chinese families. In Germany, for instance, there are about 105 cars for every 100 households, while the figure in China is only 31 cars.
The other is two out of three cars sold in China today are also produced domestically.
"And we are tailoring more and more models specifically to the needs of our Chinese customers," he added.
Fabulous lineup
The highly-anticipated All New Mercedes-Benz Long Wheelbase E-Class, which is making its world premiere at the show, is a good demonstration of this.
With its pioneering technologies, the car is hailed by the company as the world's "most intelligent executive sedan", but it also embodies the essence of the Mercedes-Benz family and the brand's insights into local customers desires.
"Designed for China" was employed from the very beginning, with special attention given to adding personalized appointments for local consumers during the with the car's research and development phase, which has allowed Mercedes-Benz to deliver on its commitment to "Made in China, for China".
"The most 'intelligent' executive sedan in the world, the All New E-Class L fuses state-of-the-art Mercedes-Benz intelligent technologies with our extraordinary design philosophy, setting up a whole new landscape in this segment," said Hubertus Troska, member of the board of management Daimler AG responsible for China, at the media day.
"The All New E-Class L marks both another solid step by us toward local production and the beginning of another decade of strong cooperation with BAIC," he said.
As the third generation of the E-Class to be produced locally at Daimler-BAIC joint venture Beijing Benz, it also marks a further deepening of ties between the partners.
"Our 'made in China, for China' concept now brings the All New Long Wheelbase E-Class to Chinese consumers," said Xu Heyi, Party secretary and chairman of BAIC. "It will certainly establish a new benchmark in this segment, and open a new chapter of even deeper cooperation between BAIC and Daimler."
In addition, the All New GLC Sport SUV is making its Asia debut at Auto China 2016 bringing its avant-garde exterior design and efficient dynamics into the crossover segment.
The Mercedes-AMG C 63 coupe and the New Generation Mercedes-Benz SLC roadster, two masterpieces of design, are also made their Asia premieres at the show.
As the latest exciting product from Mercedes-AMG, the AMG C 63 Coupe skillfully interprets the AMG spirit of "Driving Performance" to show the unrivaled power of the brand's performance cars.
Following on from last year's strong SUV offensive, the Mercedes-Benz SUV family added another member, its first plug-in hybrid SUV, the GLE 500 e 4MATIC, which officially launched at the show with a price of 1.198 million yuan ($184,132).
The inherently agile smart family also held the world premiere of the All New smart BRABUS Xclusive, which stands for high performance and individualization, at the show and the Asia launch of the All New smart fortwo cabrio, which redefines four-seater agility, with a starting price of 135,000 yuan.
Also, smart has partnered with Kris Wu, its new brand ambassador in China, to bring the unusually beautiful All New smart forfour Kris Wu Edition to excite smart fans at a price of 175,888 yuan.
Single-month sales of smart in China exceeded 2,000 units for the first time in March. And such a strong product offensive at Auto China 2016 demonstrates the confidence of Mercedes-Benz that last year's good momentum will continue.
A record-breaking year
"2015 was a record-breaking year for Mercedes-Benz in China, which has now become Mercedes-Benz' largest market globally," said Nicholas Speeks, president and CEO, Beijing Mercedes-Benz Sales Service.
He said, the beginning of 2016 has also been satisfactory as the company achieved unit sales of nearly 105,000 new vehicles in the first quarter, up 39 percent year-on-year.
"Through continually introducing new products and providing additional multifaceted customer services, we remain true to our goal of delighting our customers every day and providing genuine value," Speeks said.
Mercedes-Benz has not only brought a mesmerizing lineup of heavyweight models to this year's Auto China, it has also set up booths in the display area where attendees can scan the codes of Mercedes-Benz accessories and gifts to make direct purchases from the official Mercedes-Benz Tmall store.
The new service is an engaging example of the company's personalized services.
This year marks the 130th anniversary of the Mercedes-Benz brand, and the company is not only dedicated to write its future legend through the spirit of innovation it is also determined to use its untiring spirit in pursuit of the best to provide products and services of the highest possible quality to Chinese consumers, so the three-pointed star will permanently shine in China.