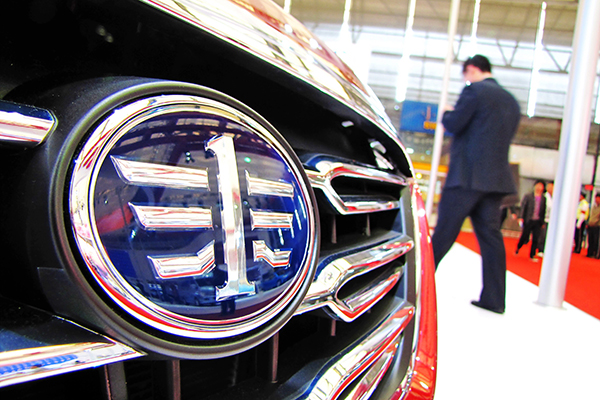 The asset transfers will make the value of FAW Xiali's sold assets increase by roughly 1 billion yuan, according to a research. [JING WEI / CHINA DAILY]
China's FAW Group is helping its listed subsidiary FAW Xiali out of a delisting risk as it seeks to avoid hurting investors' confidence in the State-owned carmaker's future.
The Shenzhen-listed FAW Xiali Automobile Co announced on Dec 5 that a series of deals was agreed two days earlier to transfer the assets of its powertrain branches to the parent company, which will include up to billions of yuan in write-ups.
China Merchant Securities' research saw the affiliate transactions as FAW Xiali's actions to make money and avoid being delisted, as only weeks are left for them to reverse their current loss of 854 million yuan ($132.7 million) this year.
The research showed that the deals would make the value of FAW Xiali's sold assets increase by roughly 1 billion yuan.
FAW Xiali will sell its engine and gearbox branches' major assets to FAW for 2.2 billion yuan, including value-added tax.
FAW Xiali then plans to rent the assets back for two years at an annual cost of 284.4 million yuan, according to the company announcement.
The assets, including land, fixed assets, product stock, techniques and other intellectual property, were valued at 2 billion yuan recently, 738 million yuan more than the 1.2 billion yuan book value, with an almost 60 percent incremental rate.
FAW also bought the struggling listed arm's research and development functions for a total of 721.6 million yuan, which consist a 717-million-yuan product development center and a 4.6-million-yuan research institute.
FAW Xiali registered two consecutive years of losses of 1.66 billion yuan in 2013 and 480 million yuan in 2014.
If FAW Xiali failed to show a profit by Dec 31, it would be withdrawn from public trading on the main board in accordance with the regulations of the China Securities Regulatory Commission.
The securities' research report said the actions might help consolidate R&D forces, but did not substantially change FAW Xiali's business situation, nor improve its likely profitability in the near future.
National Business Daily cited analysts saying the deals are part of a potential FAW plan to integrate all of its powertrain production and R&D resources to prepare well for the SOE's future strategic development covering listed subsidiaries including FAW Xiali and FAW Car.
FAW Xiali's operating income slid 8 percent year-on-year to 615 million yuan in the first three quarters of 2015, while sales expenses surged 52.4 percent to 264 million yuan, according to its quarterly report filed to the stock exchange.
Sales of Xiali branded passenger cars totaled 58,077 units in the past 11 months, a drop of 11.1 percent from the 65,342 units sold during the same period last year.
Zhang Yu, managing director of Automotive Foresight (Shanghai) Co, said Xiali lacks new models in its lineup. The brand was known for several popular models five or six year ago, but only a few new products followed.
"They spent a lot on advertising and promotions, while the sales were waning, in the hope of attracting consumers."
There has been speculation that FAW Ltd may list on the nation's main board as a whole to replace the listed FAW Car, and include FAW Xiali in the near future.
China Merchant Securities' research report said to "go public as a whole" is a must for FAW to accelerate its development.
Since the FAW Xiali deals were made to deliver a profitable annual report, FAW won't seek public listing before its listed subsidiaries publish their annual report in 2016.