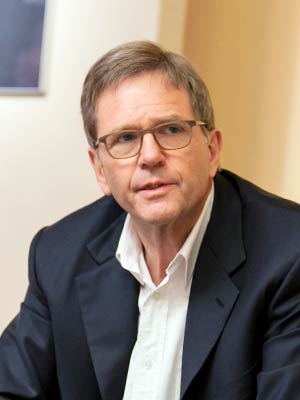 Jochem Heizmann, president and CEO of Volkswagen Group China. [Photo/China Daily]
Volkswagen China is hoping to accelerate sales of new energy vehicles in China by introducing about 15 domestically produced NEV models in the next four to five years.
The localized NEV models include an Audi A6 plug-in hybrid and a Volkswagen C-model plug-in hybrid, both of which are equipped with batteries that are capable of going a distance of 50 kilometers without fuel, among other plug-in hybrids and pure electric vehicles.
Its goal in China is ambitious: By 2020, the year that China wants 1 million of its total vehicles to be NEVs, VW China is shooting for its sales of NEV models to be proportionate to the ratio of total NEVs sold in China. Thus, if 5 percent of total vehicles sold in China by 2020 are NEVs, VW China wants to match that figure in its own sales mix.
"It is our responsibility to be able to offer (NEVs) to our customers, as one part of our sustainable solutions in China," said Jochem Heizmann, president and CEO of Volkswagen Group China.
The carmaker showed off its latest battery-powered e-Golf at the International Consumer Electronics Show Asia held in Shanghai last week. The e-Golf showcased inductive battery charging and an emergency telematics service that offers automatic crash notification and remote vehicle access.
VW provides an app for Apple and Android smartphones that allows owners to control many of these functions.
Last year, China finalized and is currently promoting its plug-in hybrid charging protocols.
Standardization of inductive charging techniques among carmakers have yet to be hammered out.
"Volkswagen is preparing the safest technologies for Chinese customers. We have worldwide standardized technologies, but prepared specific solutions for Chinese market," said Volkmar Tanneberger, head of electrical and electronics development at Volkswagen AG.
"(But) number one is not just about sales figures. Number one means being the most successful company. That's a more realistic approach. It's more than just volume," added Heizmann.
Wang Hongyan, an automotive technology professor at Tongji University said: "For carmakers, NEV technologies are already there. The current situation shows that the key is not in carmakers but the government. The policymaker needs to help people know and understand NEV technologies.
"Volkswagen is a company that is undertaking social responsibilities. It not only makes money in the Chinese market, but also gives back to the Chinese people."
Volkswagen China and Shanghai Volkswagen recently opened a plant in Changsha, Hunan province, the first Volkswagen plant in Central China.
With a 300,000 production capacity, the plant will create about 8,000 highly qualified jobs, 4,000 of which will be at the plant and another 4,000 at suppliers nearby.