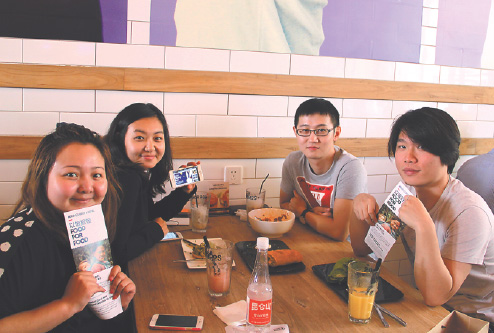 Diners at a MOKA Bros restaurant in Beijing pose for photographs during a fund-raising campaign recently. [Photo/China Daily]
Huge support for quake-stricken country after the public flock to charity events
The earthquakes that devastated many parts of Nepal in April and May have inspired business owners and charity organizations across China to join forces in numerous events to raise awareness, funds, and support for the victims.
Many non-profit organizations teamed up with local restaurants, for instance, in arranging fundraisers.
Western-style food restaurant chain MOKA Bros held a one-day "Food for Food" event in May at three of its outlets to raise money to fund food transportation to remote areas and regions difficult to access in Nepal.
Held at two sites in Beijing and one in Sichuan province's capital Chengdu, every yuan spent in the restaurants during breakfast and lunch was donated to the cause-an impressive 43,000 yuan ($6,937) in half a day.
"There have been many great fund-raising events for Nepal, but as far as I know nobody has done what we did and given every single yuan from sales to charity," said Anna Lin Yip, MOKA's group marketing manager. "We did what we felt was right."
The chain's owners Alex Molina and Daniel Urdaneta said they expect the funds will be used to to feed upwards of 1,000 people in Nepal over the next three months.
MOKA partnered with the World Food Program, the world's largest humanitarian agency, which will use the funds, they said, to transport tons of food coming from Malaysia.
WFP is currently managing several logistics projects in Nepal, all involved in bringing help to stranded or homeless Nepalese living in remote areas.
"We decided to partner with WFP after reading that most of the physical donations made, such as clothes, blankets and canned food, were going to waste because of poor logistics," said Lin.
The WFP is funded entirely by donations, and revealed last month it needed $150 million to bring food to 1.4 million people in the next three months.
The restaurant owners, who also hosted various charity events to raise funds for victims of the Japanese tsunami and for the hurricane in Haiti, said they were impressed by the response they received from the public.
"At our Sanlitun restaurant in Beijing, we had a 40 percent higher turnover during that day. We had a lot of individuals who came to eat there only because they wanted to contribute to the cause," said Lin.