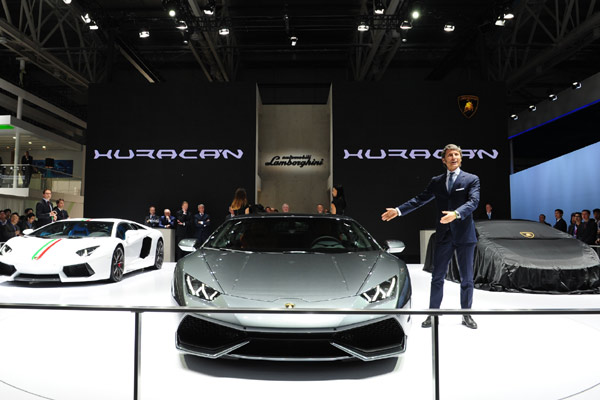 Lamborghini displayed the new Huracan at the 2014 Auto China show in April. [Photo / Provided to China Daily]
Orders for latest model pour in as brand moves to further define super car culture
Though China lost its leading position to the United States in Lamborghini sales, the Italian super sports car legend still believes its future is bright in the robust Chinese ultra-premium vehicle market.
"Yes, China is now the second-largest market in the world for Lamborghini, but our market share here remains the highest among the top five markets worldwide," said Andrea Baldi, head of Automobili Lamborghini Asia Pacific.
"That is in the situation with China ranking No 4 overall in the global super sports car market after the US, Germany and the United Kingdom, followed by Japan with a very close gap."
Baldi said he has a strong confidence that in the long run "there is no doubt that Chinese mainland will become the second-largest in the world".
In 2011, China for the first time overtook the US as Lamborghini's biggest market, with 342 cars sold that year, a record for the company.
"From 2013 to 2014, we saw a dip in the sales numbers in China with the main reason we are running out of the Gallardo, the most popular Lamborghini model priced at between 3 and 4 million yuan ($653,000), which is much more affordable than the Aventador," said Baldi.
"Orders for the new Huracan, which is the replacement for the Gallardo, have become the key performance index we take into consideration".
He added that it's difficult to measure Lamborghini's performance in just one year.
"It should normally be measured along the cycle for a brand that has only two to three models. It's impossible to evaluate the first year in a new model's production."
With the Huracan arriving on the Chinese market in late August, Baldi said feedback from customers far exceeded what the company could supply even before the new model was shipped to showrooms.
"Huracan is the car that changes the experience in a super sports car. What you can taste immediately is the comfort," said Baldi.
Lamborghinis are clearly cars looking for extreme performance, and cutting-edge design and technology from the day they were born.
Yet "when we ask our customers in China what they do with the car, they use them more often in commuting, rarely for racing", said Baldi.