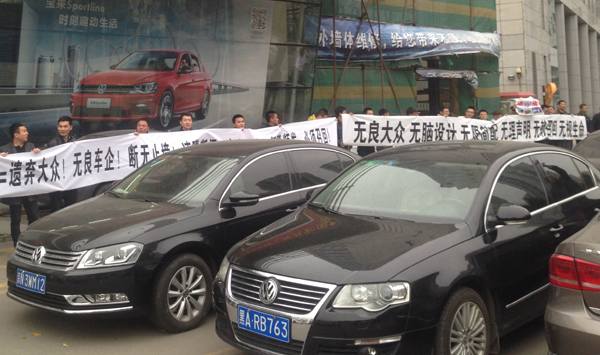 New Sagitar owners protest in front of a Volkswagen AG dealership in Harbin, Heilongjiang province, on Oct 26, 2014. The automaker will recall 581,090 New Sagitar and Beetle vehicles to fix metal plates to the rear torsion crank axle. [Provided to China Daily]
Volkswagen AG faces nationwide protests in China after car owners expressed dissatisfaction over the German company's handling of a recall to fix a possible suspension defect.
The automaker will recall 581,090 New Sagitar and Beetle vehicles in its biggest market to fix metal plates to the rear torsion crank axle, which will stabilize the vehicles and emit warning noises in case of cracks, it said this month. The axle is safe and installing the metal inlays is like "providing a double assurance", Soh Weiming, Volkswagen China's executive president, said on Friday.
Unconvinced car owners, however, protested on Sunday at Volkswagen dealerships in major cities such as Shanghai and Shenzhen. Some held banners condemning Volkswagen for being "unconscionable" and others distributed flyers describing their fear of driving the cars. A poster circulating on Tencent Holdings Ltd's QQ social media service urged New Sagitar owners to stage another round of protests in 100 cities on Nov 9.
"It's like a ticking time bomb," said Dai Dushi, a 36-year-old businessman who took part in the protest at a Shanghai dealership. "I am constantly afraid the rear suspension will break and my family and I will get hurt, especially when we are traveling at high speeds."
The car owners demanded the Wolfsburg, Germany-based company replace the rear suspension or refund buyers.
In rare cases, it is possible that a rear-side or rear-end impact results in bending or breakage of the rear torsion crank axle, Volkswagen said in an e-mail on Sunday. Drivers have no reason to worry about the bending or breaking of the axle if a vehicle does not experience such an impact, it said.
Larissa Braun, a Volkswagen China spokeswoman, did not pick up calls to her office and mobile phones and did not immediately respond to an e-mailed request for comment.
Besides installing the metal plates in affected vehicles, Volkswagen will offer a 10-year guarantee as a goodwill gesture to fix any rear torsion crank axle damaged in New Sagitar and Beetle cars included in the recall, it said Saturday. The company apologized for the recall, which will begin in February. It said it needs time till February to complete the required procedures and make the necessary preparations for the recall.
A group of Volkswagen owners, questioning the safety of existing suspension in their vehicles, enlisted Beijing-based Jingsh Law Firm to represent them. Among the clients, 53 said the rear suspension of their New Sagitar cars is out of shape, or has peeling or cracked paint, Jingsh said Oct 21.
Most Volkswagen cars that have problems with rear suspension were not involved in accidents or had not been hit as the company described, Jingsh, which represents at least 340 New Sagitar users, said in the statement.
"Our clients found Volkswagen's explanation unacceptable," Jingsh said in an e-mail on Sunday.
Volkswagen also is recalling cars in the United States to fix the same suspension issue, for a total of 1.02 million vehicles in the two countries, it said Oct 17.
Its latest recall in China comes two months after consumer complaints prompted the nation's quality inspector to begin an investigation.
In March 2013, the automaker called back 384,181 vehicles in the country to replace defective gearboxes, after China Central Television featured owner complaints about cars equipped with Volkswagen's proprietary gearbox technology.