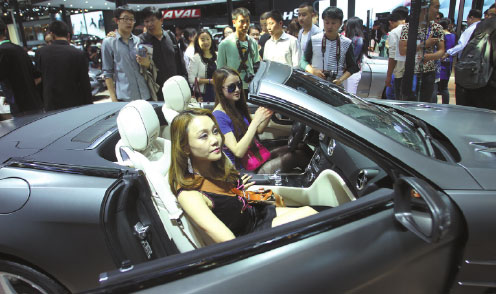 Two visitors try out a new car. A line of visitors are waiting to sit in the car for a moment. Photos by Zou Hong / China Daily
Gridlocked traffic, lack of parking and busy crowds dampen enthusiasm
The ongoing Beijing auto show fell short of expectations before it even opened its doors to the public today, said reporters and exhibitors.
"Traffic is always a problem," said an exhibitor, who wanted to remain anonymous, when speaking of her experience at the show on April 20, the day reserved for reporters and exhibitors.
"It was a phenomenon this morning: all kinds of people - global CEOs, gentlemen in suits and ladies in high-heels - were walking because their vehicles could not move. And that's why many press conferences were delayed for some time this morning."
As well as poor traffic the show has been plagued with crowds, who are more interested in catching a glimpse of celebrities used by auto brands to garner more attention, than the cars themselves.
The day before the show started online reports about celebrities due to appear went viral.
In addition to David Beckham and Sophie Marceau, South Korean star Kim Soo-hyun was due to appear at Hyundai's booth, according to reports.
As a result, a huge number of Kim's fans swarmed into the hall before his expected arrival and the event's security guards shut the doors for some time, leaving many exhibitors and reporters stuck outside. "The hall is fully packed so we won't let any one in," said one guard at the closed-off area.
To make matters worse Kim did not even show up on time, which angered the increasingly rowdy crowd. He finally made a brief appearance in the early afternoon.
"The fans turned the show into something like a live concert. They all come for the stars, and the vehicles are ignored," said one reporter from outside Beijing.
"It is not as good as the Guangzhou show, let alone the Shanghai show," he said.
He said if things didn't improve he would not come to cover the auto show in 2016.
Another thing that surprised him and many others was that many visitors on the press days were clearly not exhibitors nor reporters.