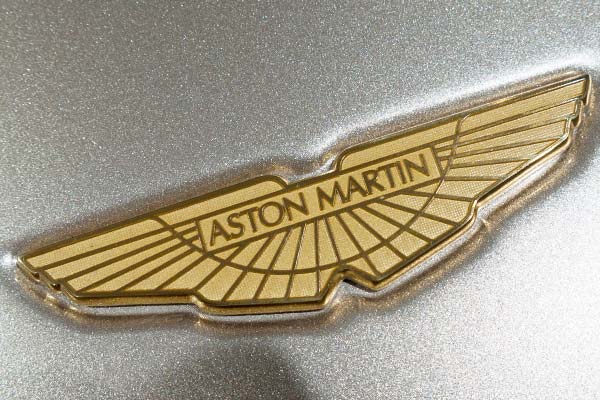 A gold plated badge on Aston Martin Virage China Limited Edition sports car is pictured on April 23, 2012 at the Beijing Beijing International Automobile Exhibition (Auto China). [Hao Yan / chinadaily.com.cn]
BEIJING - Aston Martin's latest recall again passed the buck for poor quality of products, but this time "Made in China" is just the scapegoat of the glorious carmaker.
British luxury carmaker Aston Martin announced on Feb 5 the recall of 17,590 cars because of a problem with the accelerator pedal molding, a part from a Chinese supplier.
On Thursday, the People's Daily, flagship newspaper of the Communist Party of China, called the company "unprofessional", saying Aston Martin having no basis to impute the fault to Chinese manufacturers.
The newspaper disclosed on Wednesday that Aston Martin had not stuck by its own supposed "strict standards" in selection and monitoring of its supply chain.
The accused supplier, Shenzhen Kexiang Mould Tool Co Ltd, denied any direct contract with Aston Martin, which was confirmed by Aston Martin's British headquarters.
The carmaker said its secondary supplier Fast Forward Tooling (FFT) started working with Shenzhen Kexiang in April 2013 and the business only involved some 700 vehicles.
Zhang Zhiang, manager of the small Chinese firm, questioned why the blame fell on his company as the recalled cars were traced as far back as 2007. His company was established in August 2010 and is incapable of taking big orders from the likes of Aston Martin.
He added that his company, with outdated equipment and limited workshop space, only made a few models for FFT around July last year, and had had no further contact.
Further investigation in Hong Kong and the United Kingdom found that FFT was a small office among warehouses and plants in Leicestershire, 160 kilometers away from London, operated by one man with a defunct email address.
Synthetic Plastic Raw Material Co Ltd of Dongguan, also accused by Aston Martin of providing material for Shenzhen Kexiang, is not even a registered business.
Aston Martin's manager in Shanghai confirmed to the paper that the investigation was fair, and that the company was dealing with the issue.
A car marketing expert Zhang Zhiyong points out that Aston Martin is obliged to inform consumers of the real cause of any recall, and the company had failed in this duty.
Zhou Zheng, professor of business and economics at the University of Hong Kong, said that enterprises are fully responsible for their product quality, and quality supervision of subcontracted products.
He said that loopholes in choosing suppliers were dangerous for product quality and customers, and passing the buck to Chinese suppliers was unprofessional.
An engineer at China's First Automobile Works told the paper that it was no surprise that Aston Martin chose small suppliers. High-end manufacturers were likely to be interested, considering Aston Martin's low sales volume, but this could not excuse the company's malpractice.
Zhou believes it was a simple cost-saving measure. In modern industry chains, subcontracts are very common and improve production efficiency while lowering cost.
For example, a pair of steering knuckle arms trade for $140, but only cost about 200 yuan ($32.73) to produce in China.
Expanded supply chains created subcontract management challenges, which impose higher quality risks on enterprises.
"Aston Martin's careless choice has damaged its reputation," Zhou said.
Higher levels of technology and quality are the ultimate solution for the unjust stereotype of "Made in China" as cheap and copycat.