Choice of Hongqi H7 seen as sign of official shift to domestic models
Foreign Minister Wang Yi has turned to a Hongqi H7 sedan as his official car, which experts said is a sign Chinese officials are setting their sights on national brands.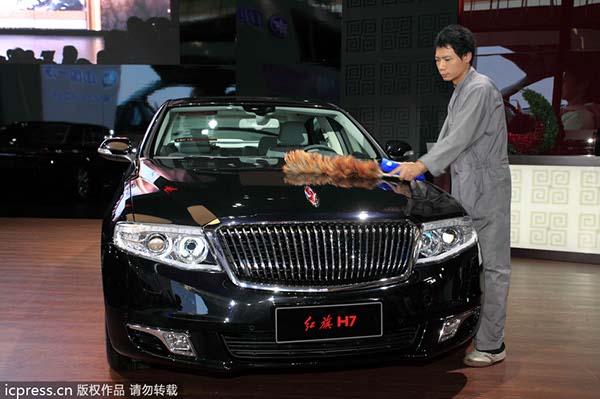 A Chinese worker dusts off a Red Flag H7 limousine of FAW during an auto show in Changchun city, northeast Chinas Jilin province, 15 July 2012. [Photo / icpress.cn]
Wang's sedan was put into use on Monday, according to the ministry's official micro blog. The message was forwarded more than 2,500 times in three hours, and was quoted by major Chinese media.
The Hongqi H7 sedan, priced at between 299,800 yuan ($48,950) and 479,800 yuan, is a newly developed sedan of the First Automobile Works Group Corp, marketed to officials at the ministerial level or above.
FAW's share price rose abruptly after 1:05 pm, when the news broke.
"Government officials should have used domestic cars earlier," said Huang Shengmin, director of the School of Advertising of the Communication University of China.
"China's domestic automobile industry was weak. The government has been trying to promote the production of the industry. So officials should set examples for consumers through their own actions," he said.
Huang said the foreign minister is unique because people tend to pay more attention to his clothing and cars.
Most of China's official cars are foreign made, despite the 2002 Government Procurement Law stipulating that domestic brands should be purchased.
In 2012, the Ministry of Industry and Information Technology published an official car procurement manual, which included more than 400 different Chinese-made cars.
"Consumers may be able to choose between a domestic brand or a foreign brand, but government procurement, which uses taxpayers' money, should not have options other than domestic products," said Wang Yong, secretary-general of Brand China Industry Union.
"The case is not unique to China. I visited the US, France, Germany and Japan, and all the official cars were local brands," he said.