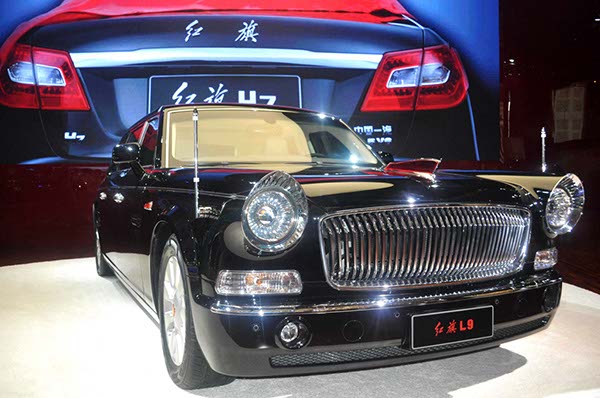 FAW's premium Hongqi L9 model was on display at Auto Shanghai this year. [Yan Daming / for China Daily]
The stock price of FAW Car Co Ltd nearly doubled in the past month, which was attributed to a profitable first quarter and the revival of the Hongqi brand.
Starting on April 11, the stock price of the listed passenger car unit of FAW Group increased from just above 7 yuan to more than 14 yuan.
On May 9, the company, listed on the Shenzhen Stock Exchange, closed at 14.19 yuan.
Analysts said that the surging stock price of FAW Car could be partly attributed to its recovery in the first quarter.
FAW Car reported a net profit of 356 million yuan ($57.9 million) in the first three months of this year.
By comparison, the company had a loss of more than 10 million yuan in the same period last year and a loss of 756 million yuan for the full year of 2012.
A drop in the cost of automotive parts helped the company achieve a rebound in profits during the first quarter, analysts said.
The company currently makes Mazda cars under an agreement with the Japanese carmaker and many of the parts are imported from Japan.
The devaluation of the Japanese yen has reduced the company's overhead from importing parts.
Analysts also noted that the capital market's high hopes for the Hongqi brand - especially in the government procurement sector - is another major factor that has driven the stock price up.
Formerly the premium car used by national leaders, the iconic Hongqi - or Red Flag - aims to become the government vehicle of choice once again.
FAW plans to invest 10.5 billion yuan from 2011 to 2015 to rejuvenate the brand, which suspended production in the 1980s due to high costs and poor fuel efficiency.
The new Hongqi H7 sedan, which rolled off the production line last July, marked the beginning of the latest comeback effort.
The model will go on sale to private customers at the end of this month.