New plans to increase taxi fares in Beijing are being considered as a way of raising driver's income and ease passenger complaints over difficulty in hailing cabs.
The plan is expected to be put into practice following a public hearing on Thursday.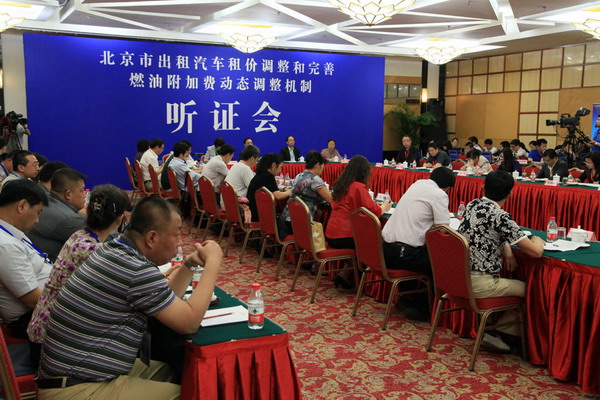 The Beijing Municipal Commission of Development and Reform holds a public hearing on the proposed taxi fare increase as a possible remedy for the capital's cab shortage Thursday, May 23, 2013. [Photo / Crienglish.com]
However, as CRI's Wei Tong finds out, some participants believe the price hike plan is not the only solution to these problems:
According to the plan released by the Beijing Municipal Commission of Development and Reform, the base fare for the taxi service will go up from 10 yuan ($1.6) to 13 yuan for the first three kilometers.
The rate per kilometer after the first 3-kilometer will rise by around 20 percent.
In addition, the waiting fee charged during traffic jams during rush hour would also be increased.
Most participants at the hearing endorsed the price hike plan.
Fan Zhongwei is from Beijing Finance Bureau, and says it may increase drivers' earnings:
"Based on my statistics, taxi drivers' annual income in 2012 was only 53,000 yuan ($8,500), which is ten percent lower than the average level in Beijing. Taxi price was last adjusted in 2006. During the past seven year, the continuously rising oil price lifted the operation costs for taxi industry. So I think price increase is reasonable."
However, taxi driver Li Wenyan hopes the government can address more concerns over drivers' working conditions:
"Most of us have to work over 10 hours per day, all year around. We find no way of resting on weekends or being paid three times during public holidays. Many of us suffer occupational diseases due to the sedentary working style. All these led to the lack of labor incentives among the group and had a negative impact on the service quality. I hope a labor union can be established to safeguard our legal rights and interests. It is more than just a money issue."
Currently, taxi companies charge drivers lease fees out of their total earnings on a monthly basis.
Peng Fengqin, is from a consumers association calling for drivers fees to be cut:
"I suggest taxi companies exempt some of these charges during public holidays and weekends so as to reduce drivers' work pressure. Also, the fuel subsidy should not be cut despite passengers have to pay more. Moreover, taxi operators should make sure drivers to be medically guaranteed, especially in terms of very serious diseases."
And for those trying to hail a cab during rush hour, most participants agreed they should lift the waiting fee.
However the overall consensus still weighs towards using public transport and not relying too heavily on the taxi as a majority mode of transport.
Citizens should be encouraged to take public transport, which is more environment-friendly.
Currently, Beijing is home to about 250 taxi operators and nearly 12-hundred individual cab drivers who collectively run over 66-thousand vehicles, accounting for 6.6 percent of the city's transport.
We recommend
Taxi fare increase finds support at hearing
Beijing holds hearing on taxi fares hike
Beijing to hold taxi price hike hearing