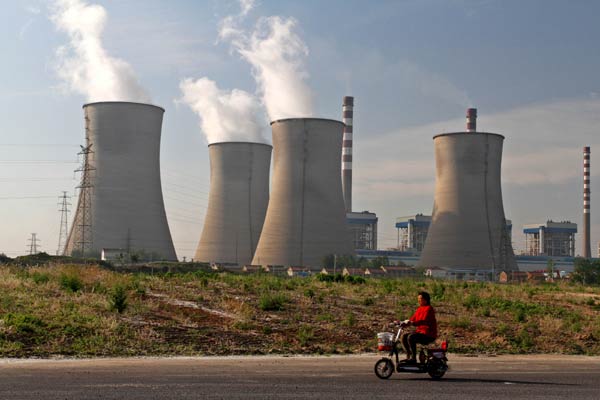 A woman passes a thermal power plant of China Huaneng Group Corp in Huai'an, Jiangsu province. By the end of this year, all coal-fired power plants of the group will be equipped with desulfurization and dust removal equipment. CHINA DAILY
Investment aims to achieve govt's goals for improved air quality
China Huaneng Group Corp, the biggest power generation company in the country, said it will invest about 10 billion yuan ($1.61 billion) this year to upgrade emissions-control equipment, a move to meet the government's requirement for air quality improvement.
By the end of this year, all coal-fired power plants of Huaneng Group will be equipped with desulfurization and dust removal equipment, said Zhao Yi, director of the company's science and technology for environmental protection department.
He said the company's investment in cutting emissions has been rising every year as the government and public attach increasing importance to fighting climate change and solving air pollution.
For the 2011-2014 period, the company will spend more than 20 billion yuan on upgrading its thermal power plants to cut emissions, according to Huaneng.
Based on current technology, the Huaneng Beijing Thermal Power Plant will reach "near-zero" emissions by the end of 2015.
By 2015, up to 25 percent of the group's installed generation capacity will be renewable energy, including solar, wind, nuclear and hydropower.
The group reported total installed generation capacity of 143.29 million kilowatts as of the end of 2013.
"Coal will continue to be the majority source for China's energy supply because of its low cost and rich reserves," said Dai Bing, director of the coal industry information department at JYD Online Corp, a Beijing-based bulk commodity consultancy.
He said considering the limited volume of imported natural gas and reduced crude oil exploration in the country, China needs to use coal in a cleaner and more efficient way.
Beijing-based Huaneng Clean Energy Research Institute, owned by the group, has many labs studying advanced power generation technology.
Xu Shisen, head of the institute, said Huaneng's Integrated Gasification Combined Cycle project, which can transform coal into gas for power generation, has been put into operation.
The emissions of the project are equal to 10 percent of those of a conventional baseload power plant, said Xu.
The unit cost of the IGCC project for power generation may be four times that of a common coal-fired power plant, so it is not ready for commercial operations.
However, Xu said that as natural gas prices continue to rise, the project will gain an advantage and it is likely to be put into commercial operation soon.
According to Xu, Shanxi province, a major domestic source of coal, has shown an interest in the IGCC project.