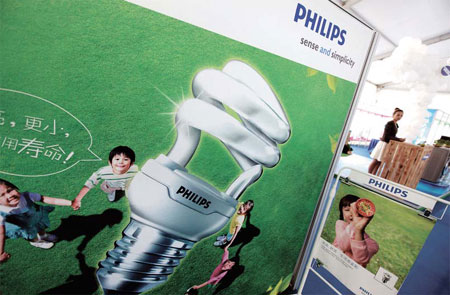 Official statistics show Chinese people currently use about 107 million incandescent lamps every year. If these lights are replaced by energy-efficient ones, 48 billion kilowatt-hours of electricity will be saved. [Photo / China Daily] 
Huge savings to be made from a change in the use of light bulbs
BEIJING - Last summer, Beijing resident Jiang Bin successfully limited his monthly electricity bills incurred by his family of three to less than 100 yuan ($16) by using energy-efficient lamps and low-energy appliances.
Jiang is an advocate for the Live a Green Life program initiated by Royal Philips Electronics NV, a Netherlands-based company with interests in lighting, healthcare and consumer electronics.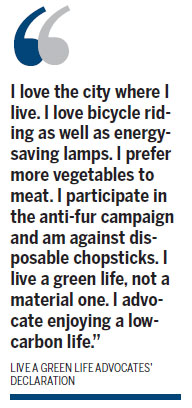 The program was first launched in 2009 and has spread to more than 40 cities across China, including Beijing, Shanghai and Shenyang. It aims to inspire more consumers to replace their incandescent lights with energy-saving lamps and enjoy a new low-carbon lifestyle through reducing living costs, energy consumption and carbon dioxide emissions.
As part of the program, the organizing committee launched a green life advocate selection process around the nation. It called on citizens to send everyday energy-saving tips to the committee. From March to November, the committee received more than 1 million letters and 10 advocates were selected.
"We use 15 watt (W) energy-saving lamps in our home, which has the same brightness as a 75W incandescent lamp, and our air conditioning is low-powered," said Jiang, who usually works at home. "Living a green life is not only a healthy lifestyle but also our responsibility as a member of society."
Yu Yongtao, chief marketing director of Phillips Lighting China, said energy-saving lighting is an efficient way of reducing electricity consumption in China.
Lighting expenditure accounts for 12 percent of total electricity use in China. Statistics from the National Development and Reform Commission (NDRC) show that Chinese people currently use about 107 million incandescent lamps every year. If these lights were replaced by energy-efficient ones, 48 billion kilowatt-hours of electricity would be saved. That is equivalent to 48 million tons of carbon dioxide emissions being cut. At the same time it would help increase production in the lighting industry to a value of about 8 billion yuan and create 15,000 job opportunities, the NDRC said.
The Chinese government has been making great efforts to promote energy-saving lighting. Between 2008 and 2010, the NDRC and the Ministry of Finance jointly promoted 150 million highly effective lighting products with a fiscal subsidy in the residential areas of key cities. The price of this kind of "fiscal-subsidy energy-saving lamp" is about 3 to 4 yuan, a quarter of their recommended retail price.
The NDRC launched an incandescent lamp elimination roadmap on Nov 4, saying that the nation will reduce imports and sales of incandescent lamps gradually from Oct 1, 2012.
"As a pioneer in advocating energy-efficient enterprises, Philips actively coordinated with the government to develop the green program," Yu said. Since China initiated its "fiscal-subsidy energy-efficient lamp" promotion, Philips has been selected as a partner for three consecutive years, with more than 37 million energy-saving lamps offered in residential communities.
"After three years of experience, Philips Lighting has formed a mechanism to cooperate well with the government on research and development into energy-saving lighting, distribution and after-sales service, which form a foundation for our company to support the Chinese government to further push the popularization of energy-saving in China's 12th Five-Year Development Plan period (2011-2015)," said Yu.
"It will be more efficient and environmentally friendly if the government set up a centralized lighting recycling mechanism."
The green life advocates have a joint declaration: "I love the city where I live. I love bicycle riding as well as energy-saving lamps. I prefer more vegetables to meat. I participate in the anti-fur campaign and am against disposable chopsticks. I live a green life, not a material one. I advocate enjoying a low-carbon life."
Maintaining sustainable development is a mark of a creative and high-minded attitude that leads people to reexamine their approach to every aspect of their lives, they said. "We believe that every little thing matters, every small step is a leap-frog to rebuilding a more efficient energy-saving and environmentally friendly future."
Dong Tian contributed to this story.