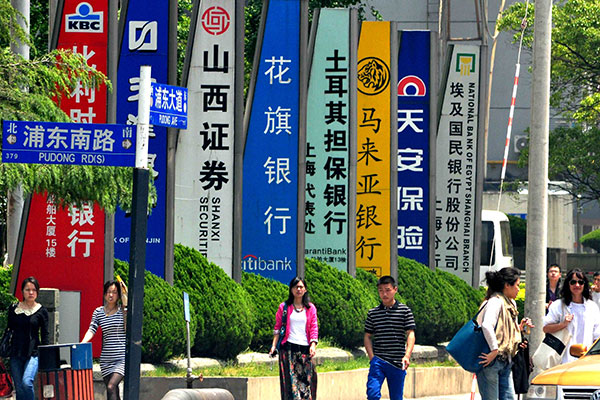 Pedestrians walk past hoardings of foreign banks in Shanghai. [Yan Daming/China Daily]
Foreign direct investment (FDI) into the Chinese mainland rose 5.7 percent year on year in August, compared with a 1.6-percent drop in July, official data showed Tuesday.
FDI hit 57.3 billion yuan ($8.8 billion) last month, according to figures from the Ministry of Commerce (MOC).
The rebound came as a slew of data released Tuesday showed China's economic activity was in better shape last month despite lingering downward pressure.
Fixed-asset investment, industrial output and retail sales all accelerated in August, according to the National Bureau of Statistics.
The MOC said FDI in the first eight months of 2016 increased 4.5 percent year on year to $85.9 billion, up from 4.3 percent in the first seven months.
Services continued to attract more foreign investment from January to August.
FDI in the service sector, accounting for over 70 percent of the total investment, went up 10 percent year on year, quickening from a 7.7 percent growth for the January-July period.
Meanwhile, FDI in high-tech services nearly doubled from a year earlier to reach 67.1 billion yuan.
In the first eight months, FDI from the United States surged 79.7 percent, while that from Germany and the U.K. soared 79.2 percent and 96.6 percent, respectively.
Altogether 18,538 new foreign-funded enterprises were established in the country in the first eight months, up 10.2 percent on a year earlier, according to the MOC.