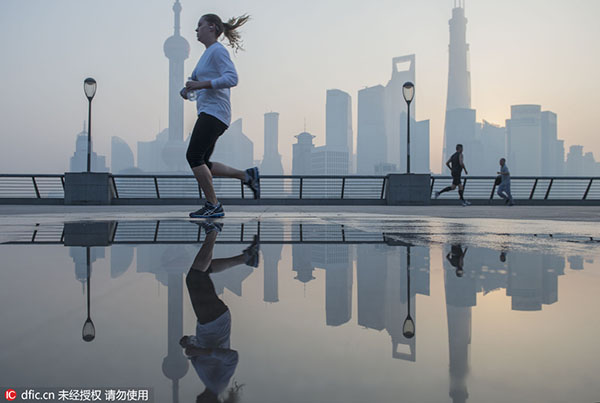 A jogger runs on the Bund after a rain with the skyline of skyscrapers and high-rise buildings in Shanghai. [Photo/IC]
Speculators reportedly use fake names for margin trading
China will soon allow individual investors to open no more than three stock trading accounts for Shanghai-listed shares, after detecting growing new accounts with fake identities in recent months, according to well-connected industry sources.
The China Securities Regulatory Commission is expected to announce the rule change after the upcoming Mid-Autumn Festival (Sept 15-17), said a source close to the securities watchdog.
But, individuals who have already opened more than three accounts prior to the new ruling will not be affected, the source said.
The CSRC did not respond to a query sent by the China Daily on Tuesday.
China Securities Depository and Clearing Corp Ltd-a subsidiary of CSRC that settles all transactions in the A-share market-lifted a 17-year-old ban in April last year, allowing individual investors to open up to 20 securities trading accounts simultaneously to trade in Shanghai-listed shares.
Previously, an individual investor was permitted to have one only account at a time. The relaxation facilitated those who wish to have separate securities accounts in various securities firms.
However, the Chinese securities regulator found recently that a number of new registrations are likely to be false after a few securities firms began heavy marketing activities to encourage investors to open securities accounts.
"Many correspondence addresses used for newly opened accounts in a securities firm were found to be the same," according to the source.
The new curb would take its toll on mainland's brokerage firms, putting them on course to brace for an elevated competition vying for clients and suffer from further reduction in commissions, said Hannah Li Wai-han, a strategist at UOB Kay Hian Hong Kong, adding that it sends out a clear signal that mainland's securities regulator is looking to tighten its grip on market participants.
"From the perspective of individual investors, the new rule could also deal a blow to margin trading. They are left with a limited number of brokers to borrow money from for stock purchases," Li told China Daily.
Market data suggested that newly opened securities accounts on the Chinese mainland exceeded two million in August amid a lukewarm stock market performance during the month.
Luo Weiteng, Duan Ting and Li Xiang contributed to this story.